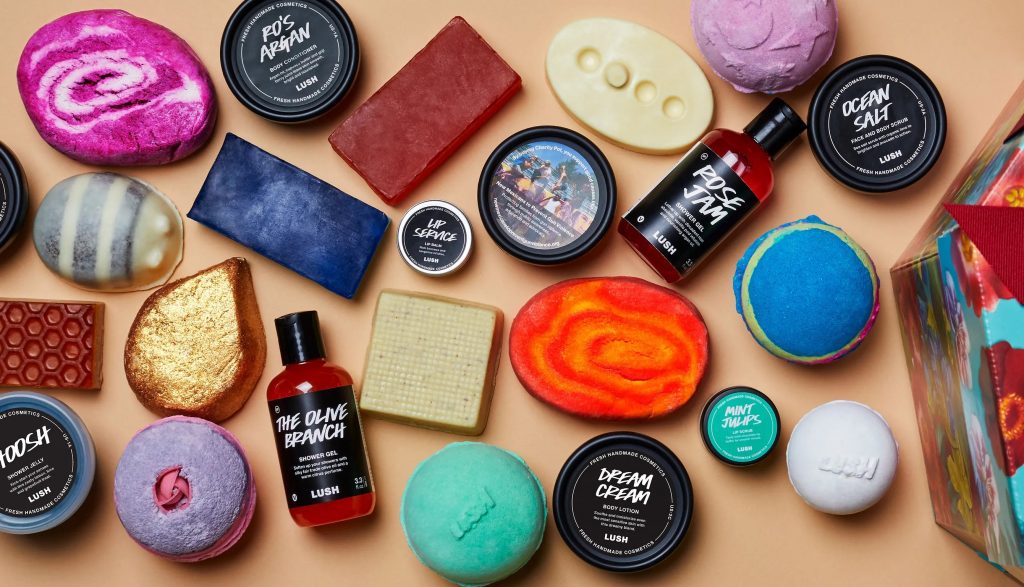 With so many cosmetics and skincare brands out there, Lush uses fresh, natural ingredients to make vegan-friendly, 100% handmade products that don't test on animals. Lush's bestselling products range from bath bombs, soaps, body lotion, face mask to body scrub and bubble bars – all comes in minimal packaging.
Although Lush is available locally in Singapore, most of the Lush products can be bought cheaper from Lush online store in UK. Currently, Lush UK doesn't ship internationally, but you can now shop Lush UK and ship to Singapore hassle-free with the help of Buyandship!
🔥 Don't forget to check out the price difference and the new Lush x The Super Mario Bros. Movie collection ranging from limited-edition shower gels to bath bombs!
💡 Lush Shopping Tips : Get free shipping to our UK warehouse with orders over GBP45!
Table of Contents:
► 5 Bestselling Lush Products to Shop & Save On
► Lush x The Super Mario Movie Collab!
► Limited-Edition Lush x Lazy Oaf Collab!
► Step-by-step Tutorial: How to Shop Lush UK & Ship to Singapore?
5 Bestselling Lush Products to Shop & Save On!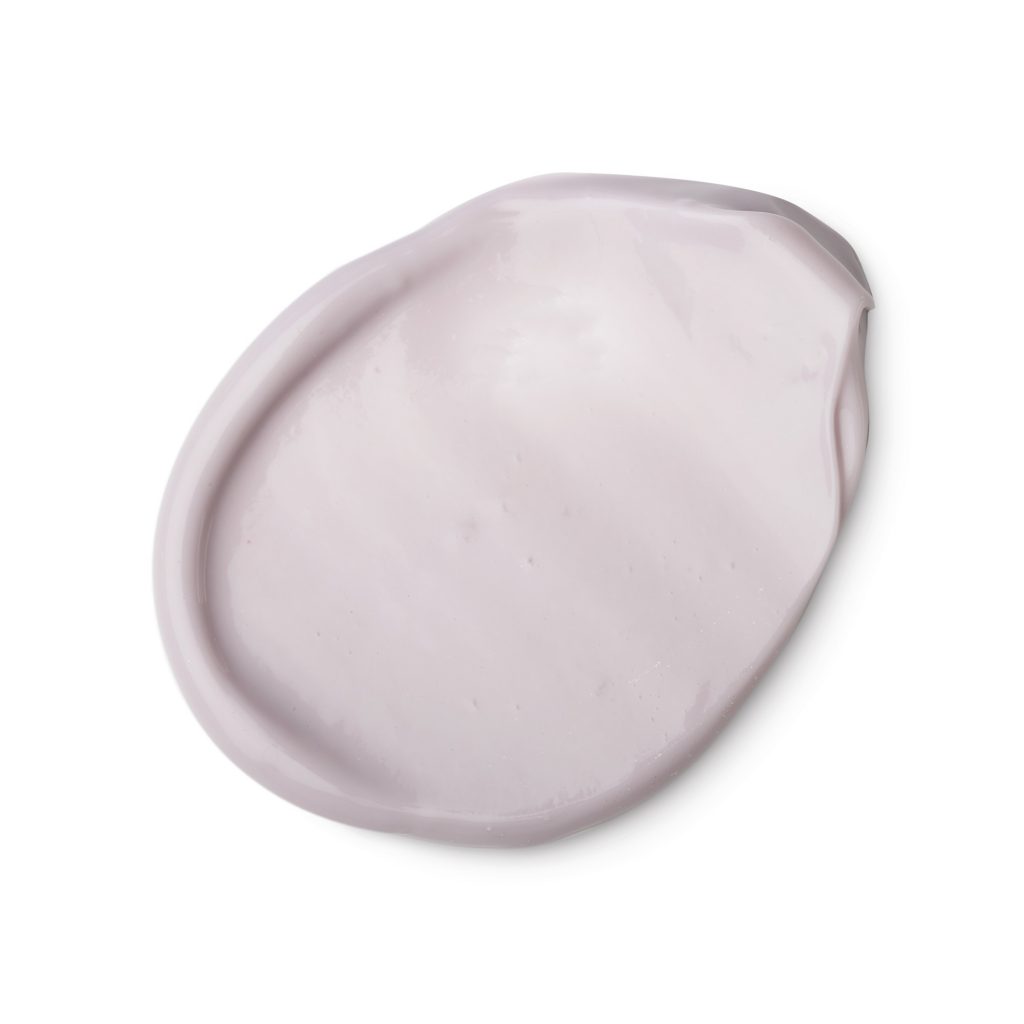 Lush Sleepy Body Lotion (215g)
If you're struggling with sleep, try this Sleepy body lotion! It's made with all the soothing and relaxing ingredients of lavender, oat, tonka and cocoa butter to help you wind down at night.
Singapore Price : S$58
UK Price:S$29(GBP18)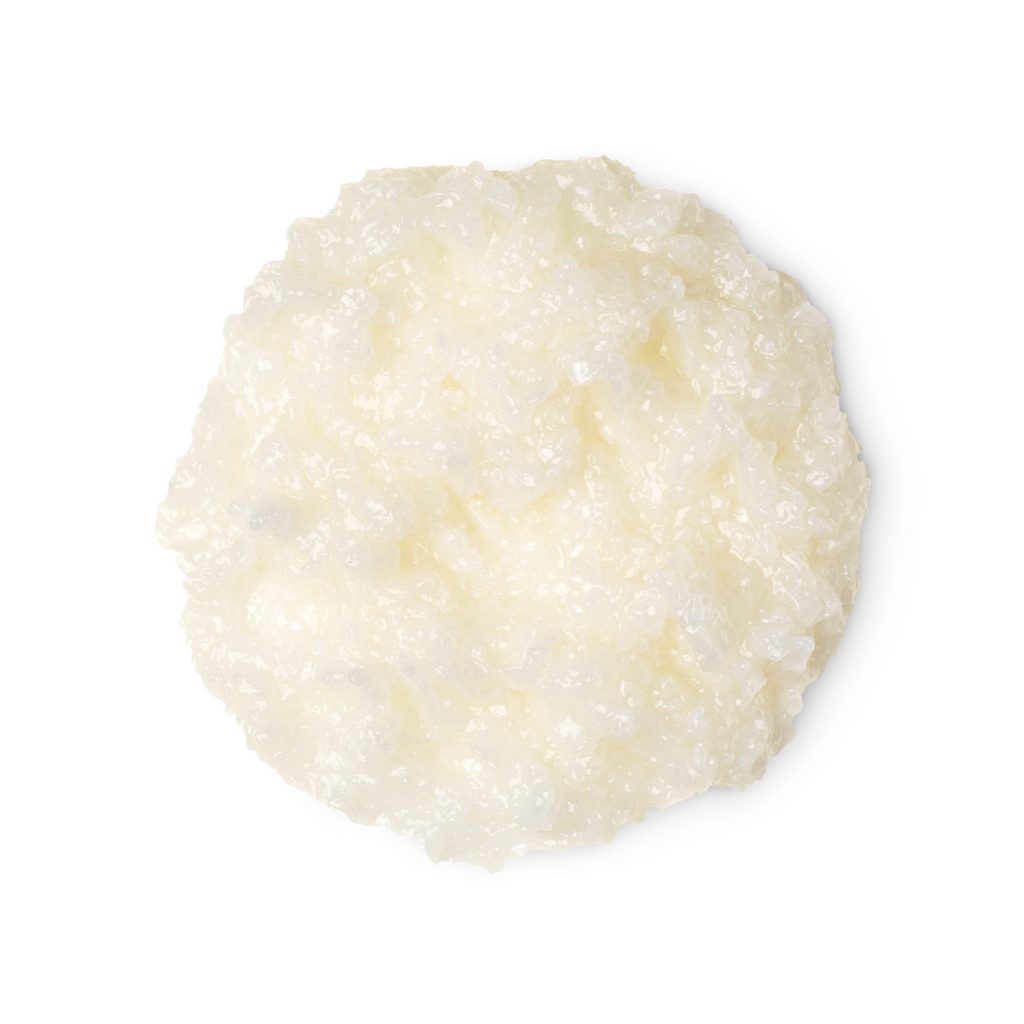 Lush BIG Sea Salt Shampoo (330g)
Lush's bestselling sea salt shampoo for high-volume and shiny hair! Packed with sea salt and lemon infusion, this shampoo will give softness and texture with scents of neroli and vanilla.
Singapore Price : S$58
UK Price:S$26(GBP16)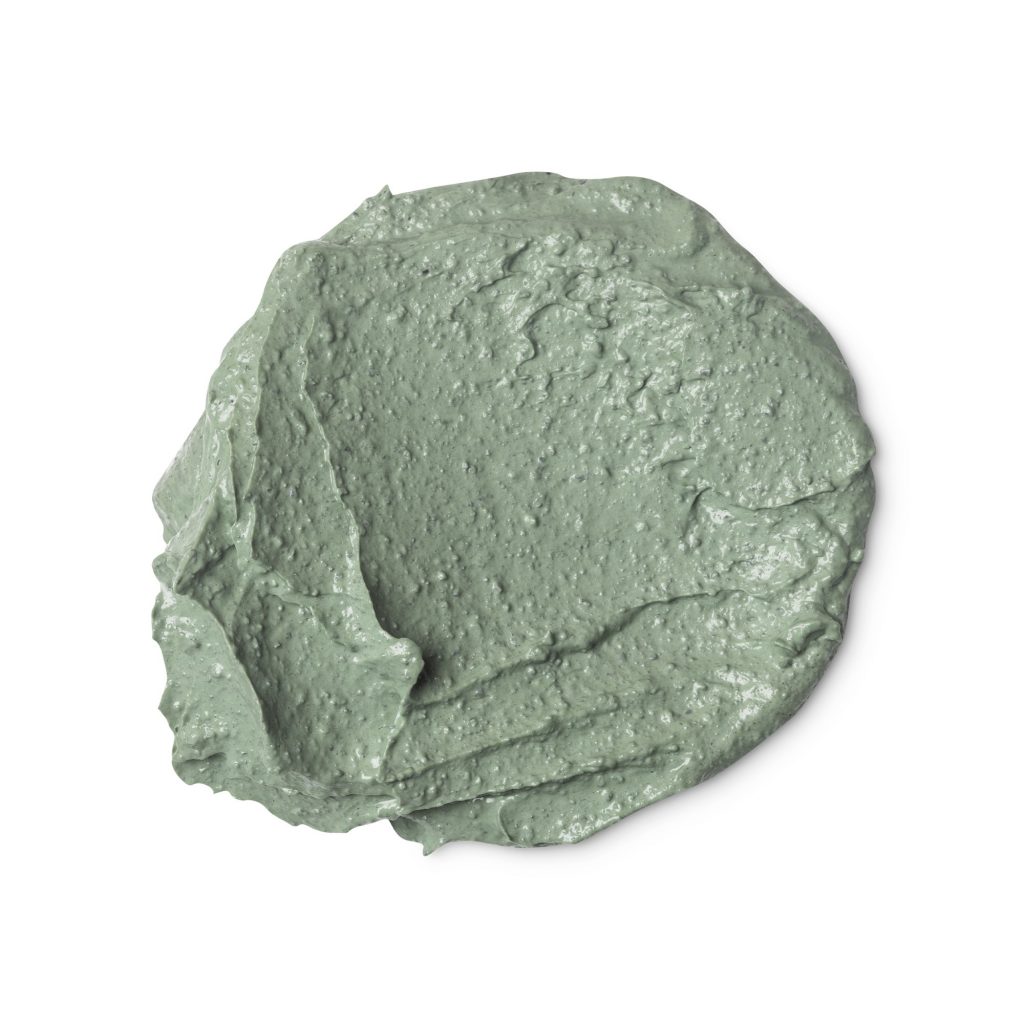 Lush Mask of Magnaminty (315g)
If your skin feels congested or dull or is prone to breakouts, treat it to this peppermint and honey face mask! Here's Lush's iconic, mega-minty, multi-tasking mask that helps to calm your skin and soothe any breakouts.
Singapore Price : S$55
UK Price:S$29(GBP18)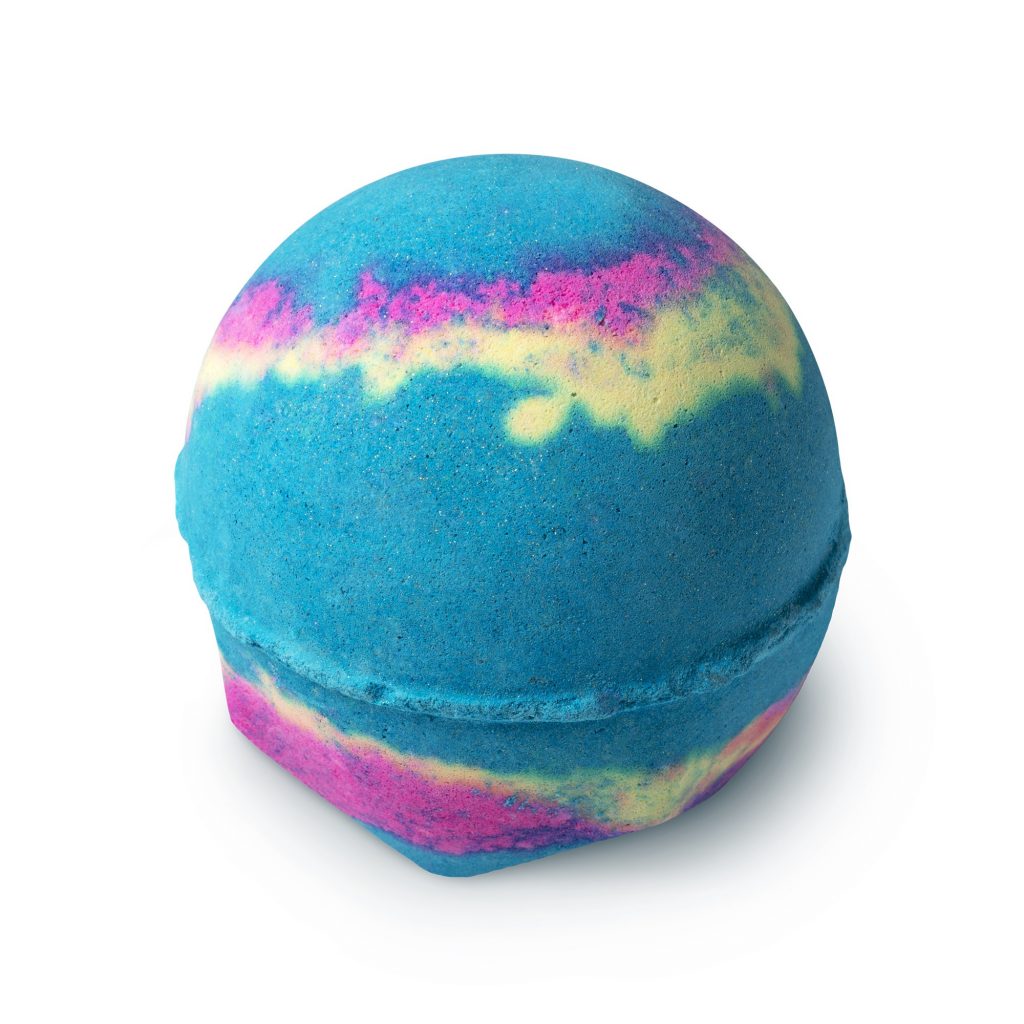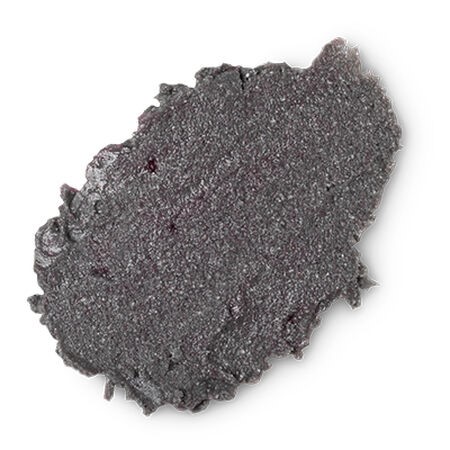 Lush Bright and Beautiful Exfoliating Facial Scrub (100g)
Lush's first ever vitamin C product made with vitamin C powder for anti-oxidant and anti-inflammatory effects! This foaming facial scrub can be used as a mask, or as a foaming face wash.
💡 Skin may tingle during use as it exfoliates dead skin cells.
Singapore Price : S$35
UK Price:S$22(GBP14)
💡 Note: Product prices, quantities etc. may change due to sales. All subject to change.
New Collab:Lush X Super Mario Bros. Movie
The Super Mario Movie is coming out soon in April! Lush is delighted to be launching a limited-edition Lush x Super Mario Bros. Movie collection in association with the film. The new collection is now available to shop!
Fans of the Mario series are sure to be excited to add this fun and playful bath bomb to their collection!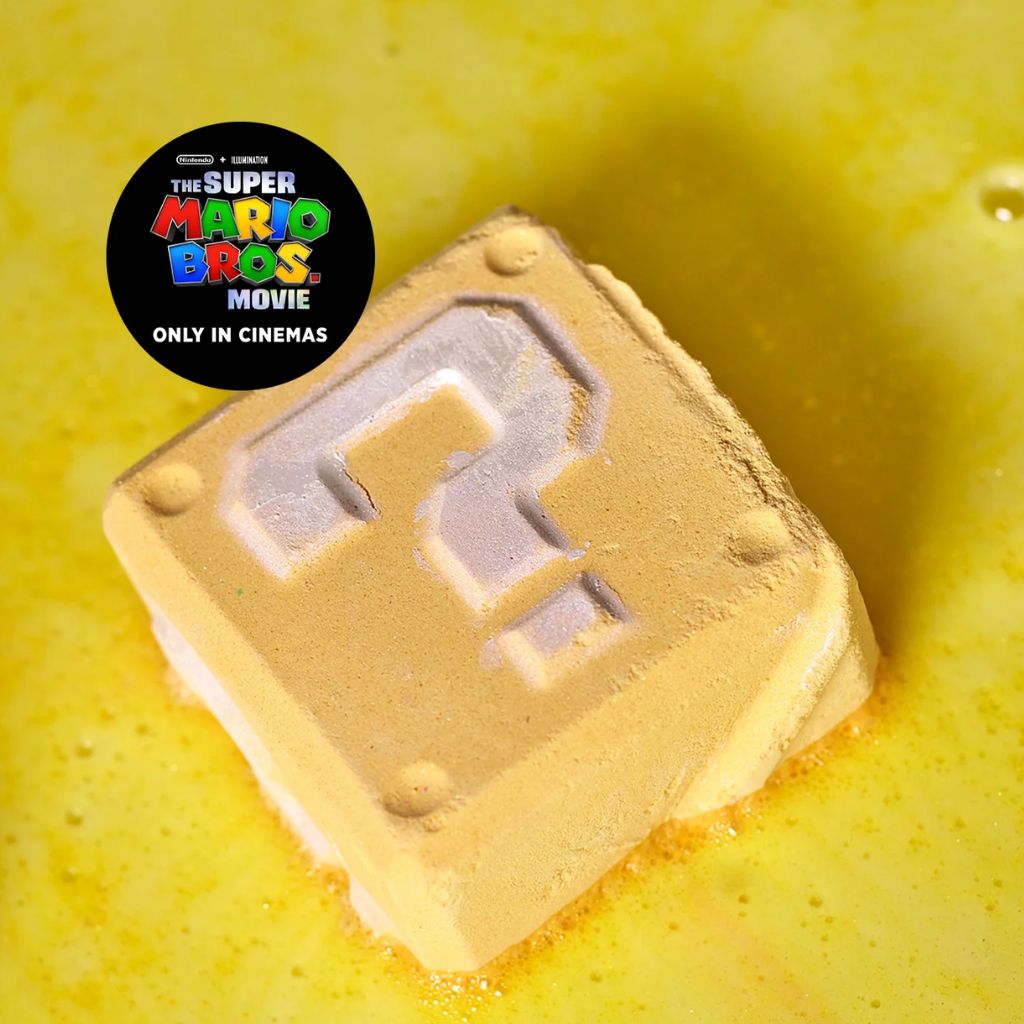 Lush x Super Mario Question Block 2-in-1 Bath Bomb
Power-up your bathing today! Inside each mysterious Question Block is one of six soapy power ups, each with it's own unique blend of fragrance and colour!
Not Available in Singapore.
UK Price:S$22(GBP14)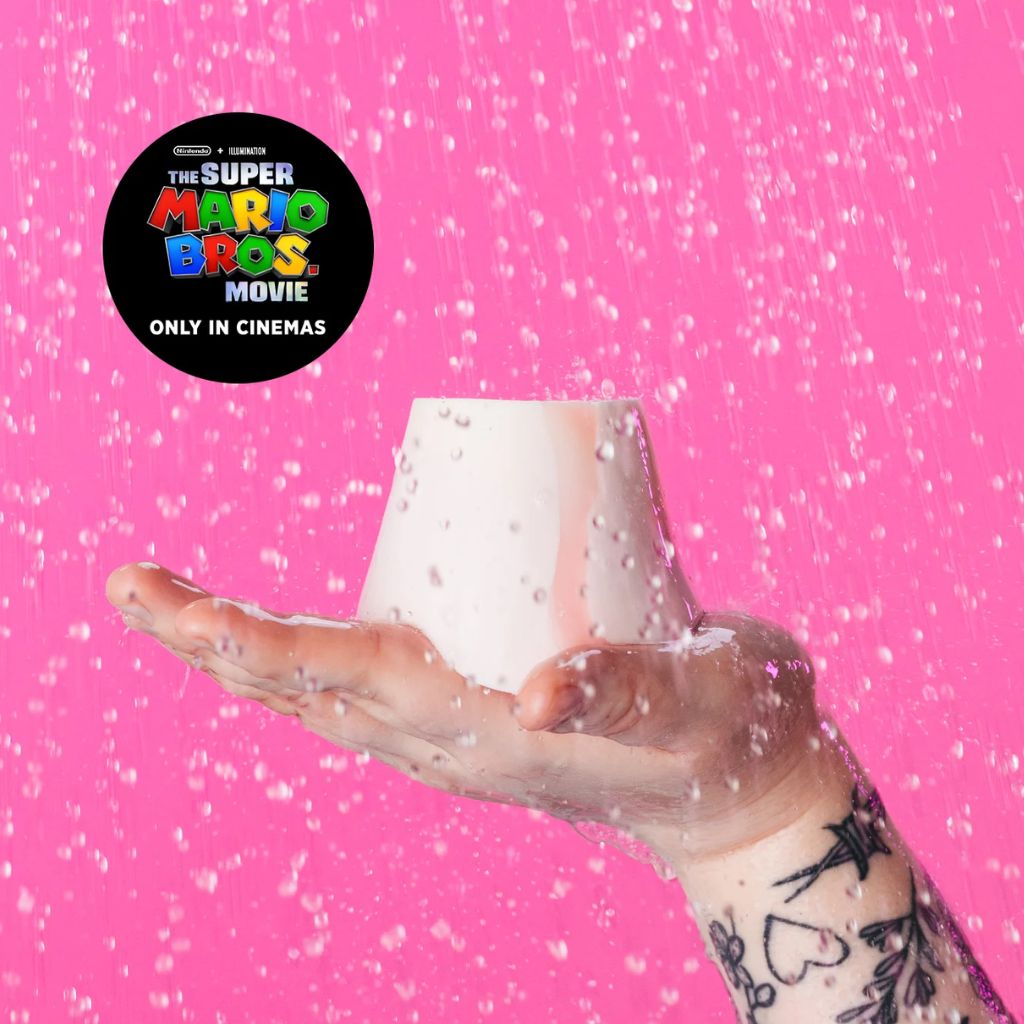 Lush x Super Mario Princess Peach Shower Jelly 240g
Pink and packed with peach juice, this skin-softening shower jelly is filled with soothing seaweed and mood-boosting litsea cubeba. The smell of peach and pineapple create a tropical fruit medley to your shower!
Not Available in Singapore.
UK Price:S$21(GBP13)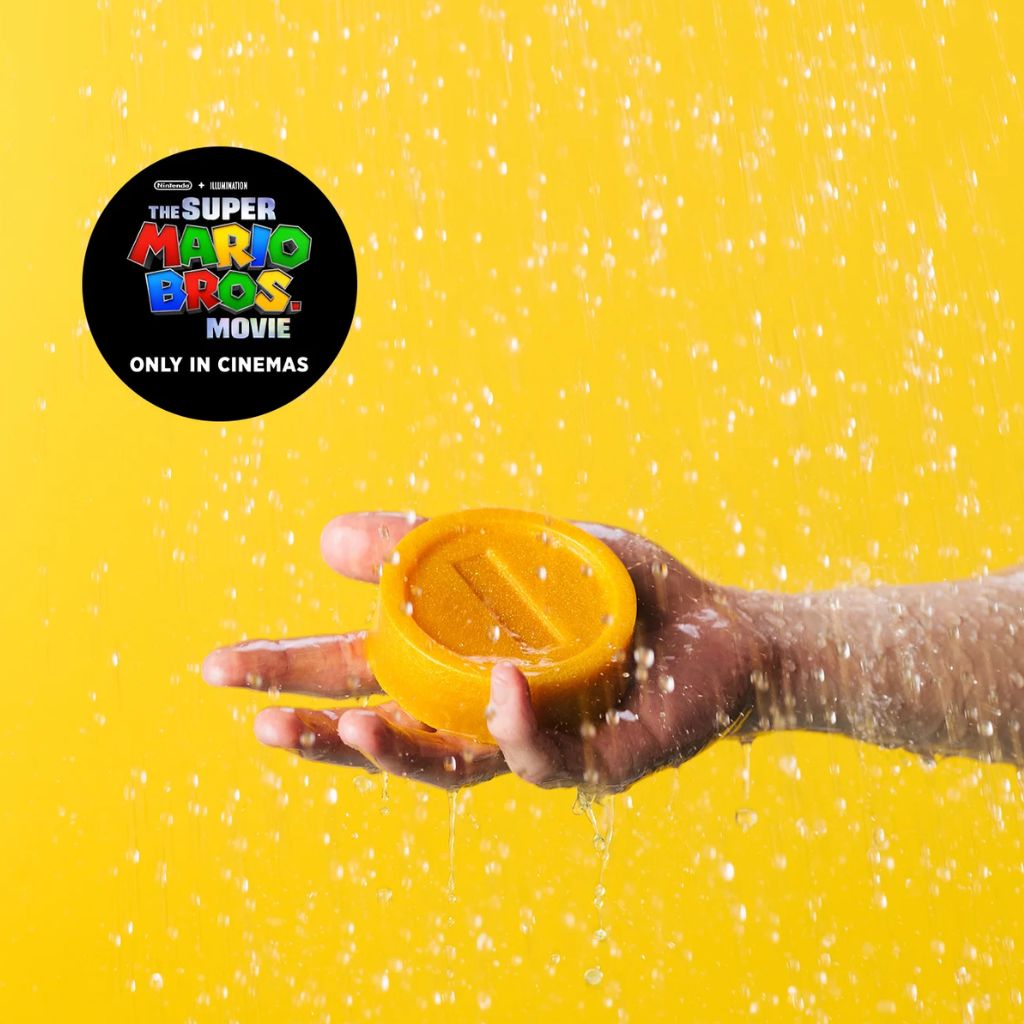 Lush x Super Mario Gold Coin Soap 100g
Recognize the gold coins in Super Mario? Here's a rich, sweet caramel scented golden soap that looks exactly like a gold coin! It's infused with Honey I Washed The Kids fragrance.
Not Available in Singapore.
UK Price:S$8(GBP5)
Limited-Edition Clothing Line : Lazy Oaf x LUSH
Never seen Lush's apparel products before, have you? Lush has teamed up with Lazy Oaf to launch limited-edition, Y2K-inspired merch including pajamas, face towels, hand towels and more!
Lush X Lazy Pyjamas Shirt
Made from organic cotton, this shirt is soft and comfortable! Featuring bright fluorescent green colour and graffiti-like pattern, it's definitely worth buying!
Not Available in Singapore.
UK Price:S$122(GBP75)
Lush X Lazy Socks (3 Pairs)
Comes in 3 pairs of organic cotton socks in different graffiti styles, they are fun to wear on the feet and the bright colours will instantly lift up your mood and your outfit!
Not Available in Singapore.
UK Price:S$48(GBP30)
Lush X Lazy Carrier Bag
The 100% cotton, eco-friendly bag is covered with the collab logo, which can be shoved in your handbag and use it for your shopping!
Not Available in Singapore.
UK Price:S$40(GBP25)
Tutorial : How to Shop Lush UK & Ship to Singapore?
Step 1:Go to Buyandship website to log in or register as a member.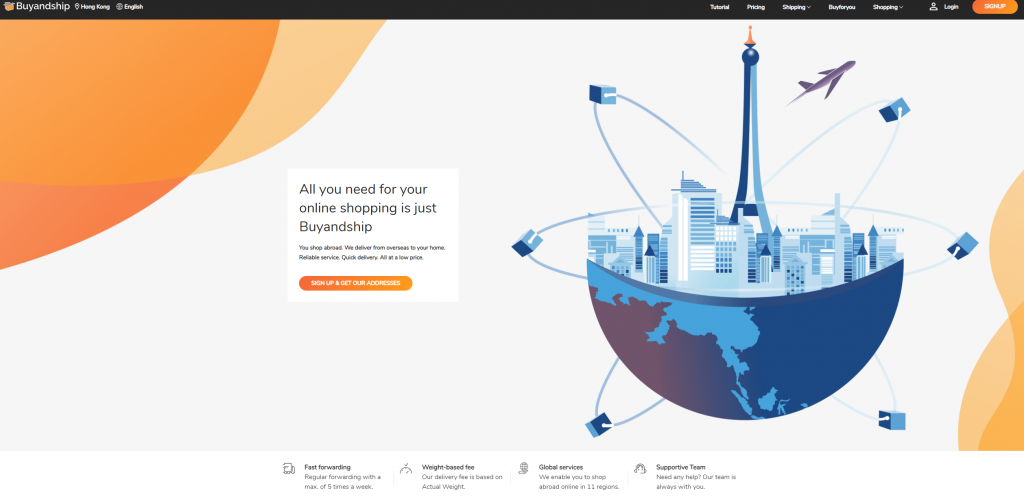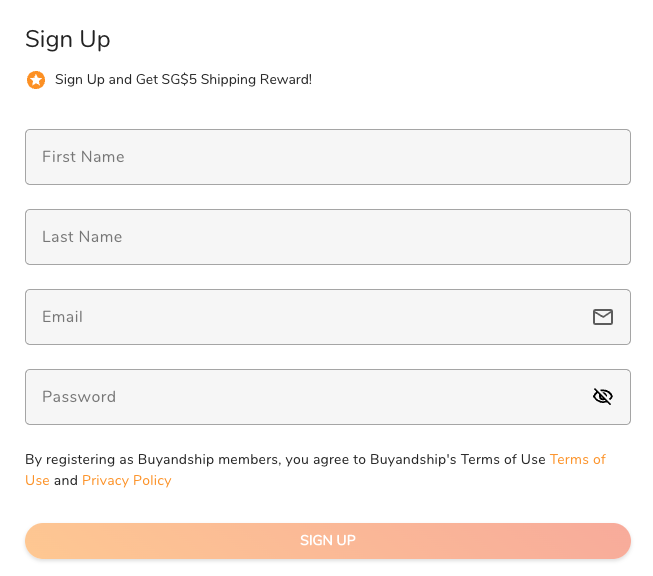 Step 2:Fill in your first and last name, email address and set your account password. Click "Sign Up" once details are completed.
Step 3:Visit Lush UK online store, make sure you're on UK site by checking the region on top right corner.
You can start browsing by categories, or search for a particular product on the search bar at the top!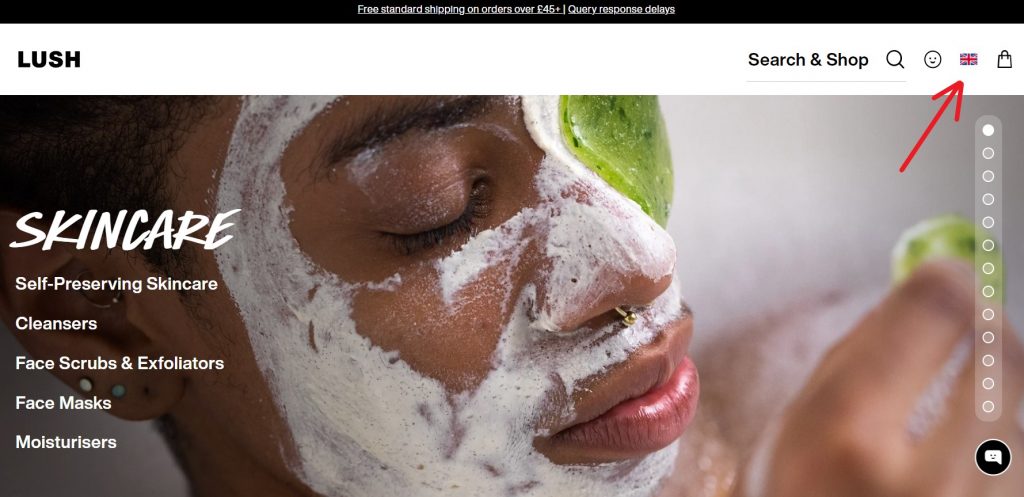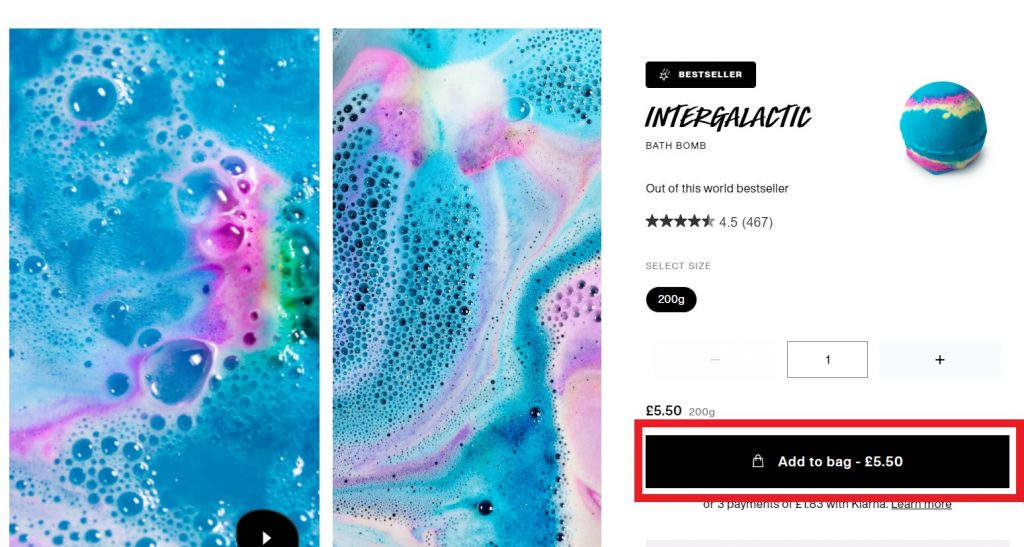 Step 4:If you wish to add an item into cart, click "Add to Bag" and you're able to visit your cart by clicking top right corner.
Step 5: Click "Checkout", and "Continue as Guest" if you don't have a Lush account.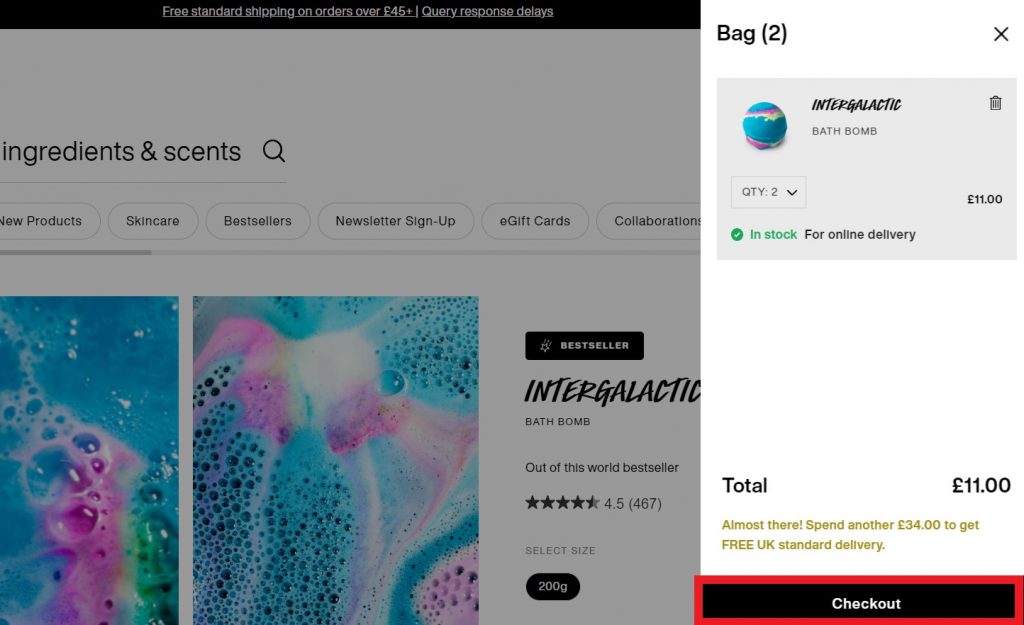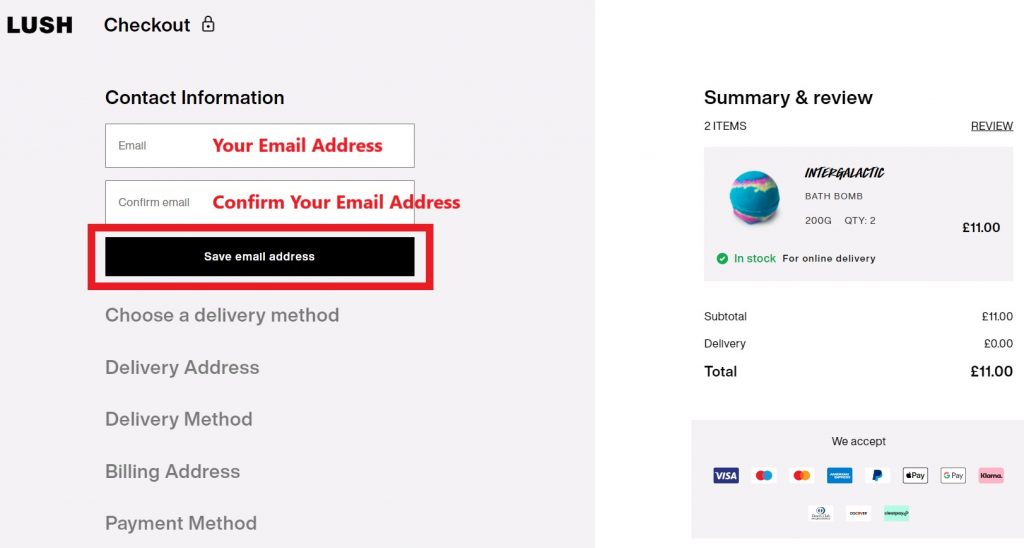 Step 6:Enter your personal email address, then click "Save email address" to proceed.
Step 7:To checkout, you'll need to fill in your name with your BNS member ID, UK warehouse address and warehouse contact number.
For shipping address, go to "Overseas Warehouse Address" on your Buyandship member centre and view the information of Buyandship's UK warehouse.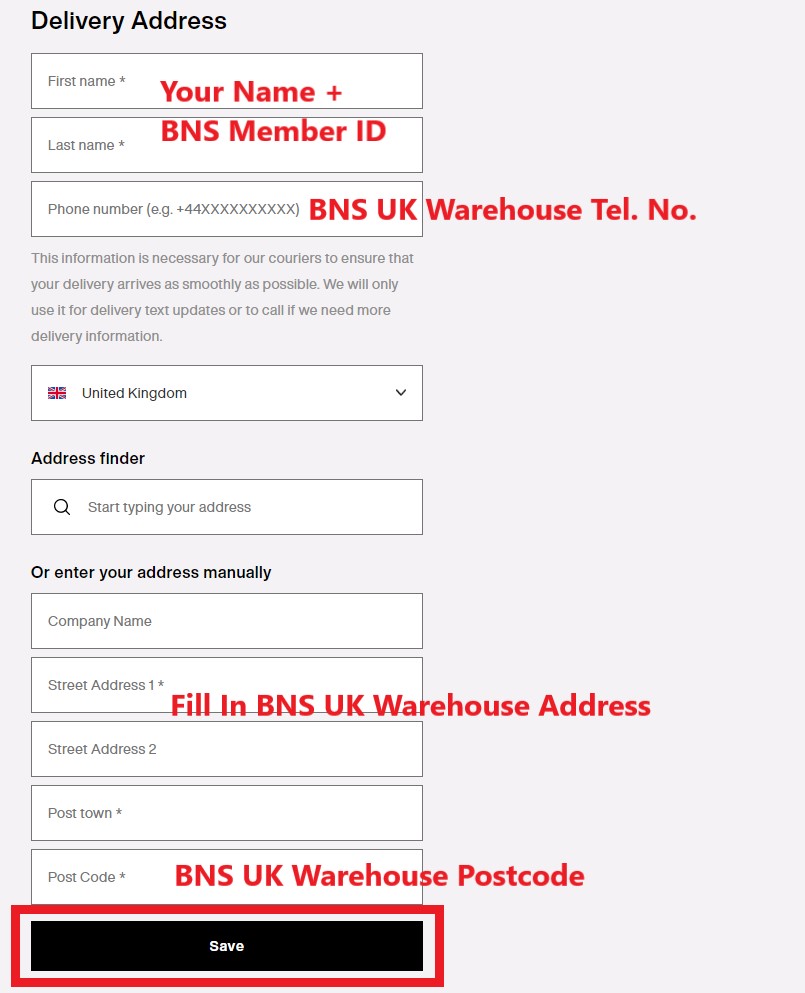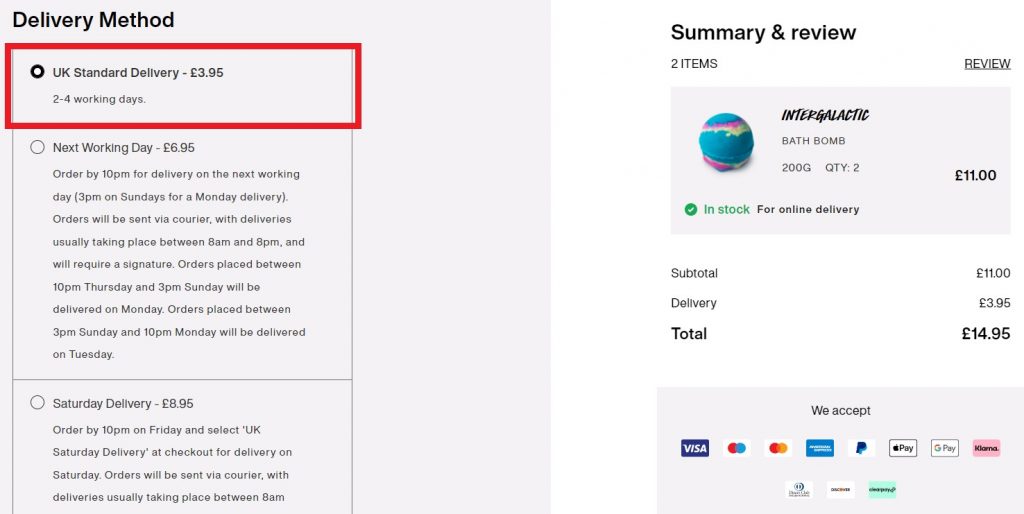 Step 8:Choose your delivery method, scroll down to continue.
Step 9:Choose your payment method of either credit card or PayPal. Double check your cart, then enter your payment details and click "Submit Your Order" to proceed.
Your order should be confirmed and you'll receive a confirmation email!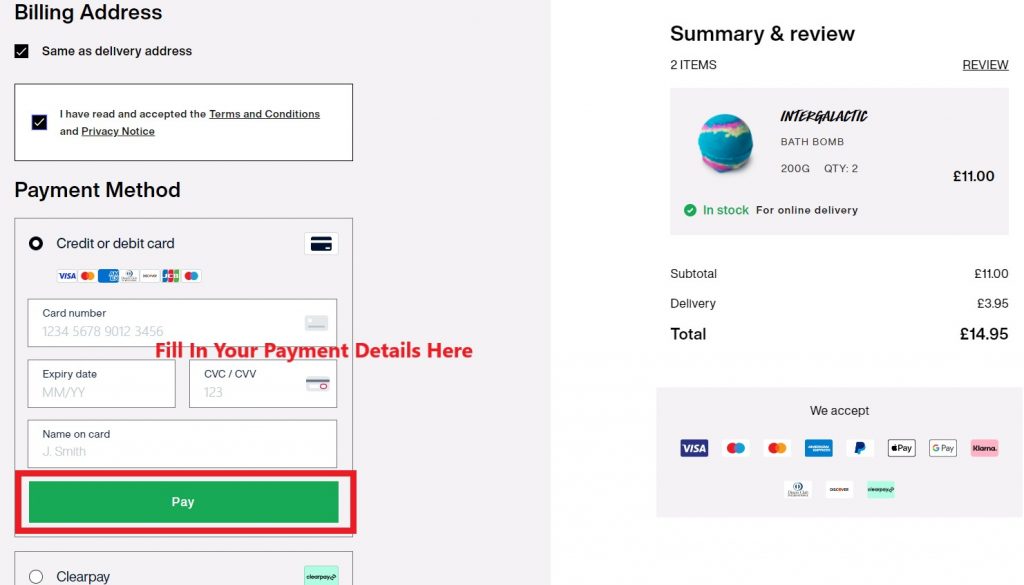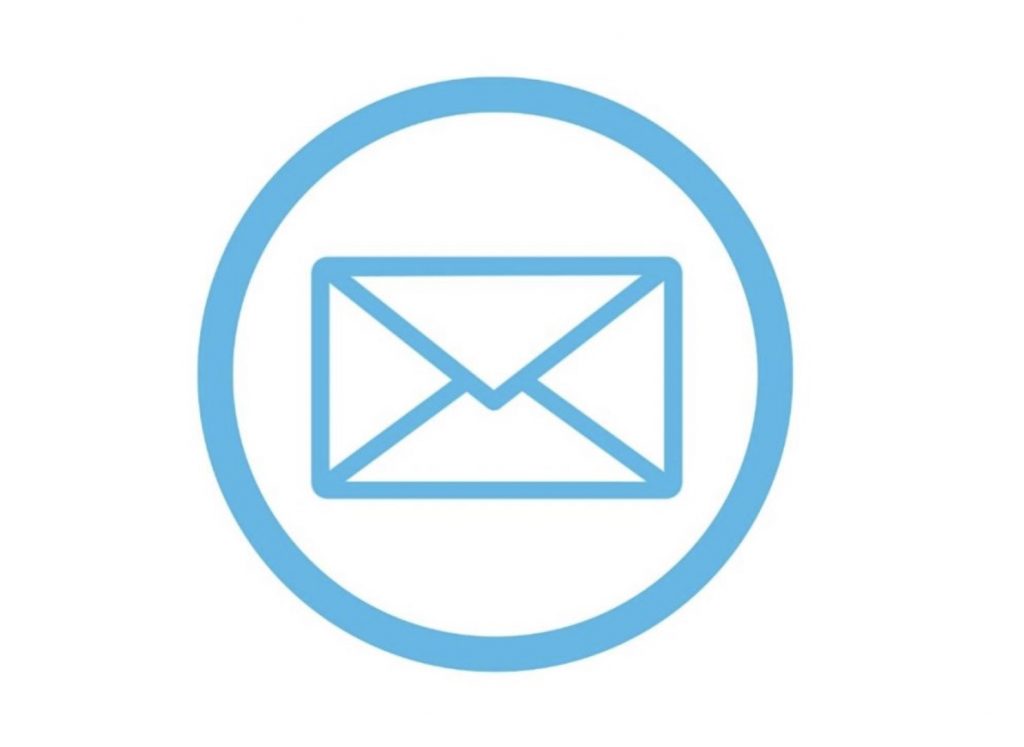 ---