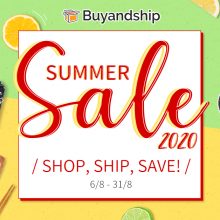 With just one more month of summer left and some retailers already offering Summer Sale or Back to School Sale. (Up To 80% Off)
And while many of us may not be heading back into an office or sending kids back to school for a while, these amazing deals in home, fashion and tech will definitely get you and your family ready for the months ahead.
We're here bringing you all the best Summer Sales & Back to School Sales of 2020! And we've also ordered all these hot sales by category, so you can jump straight to the missing items on your list.
Continue Reading →