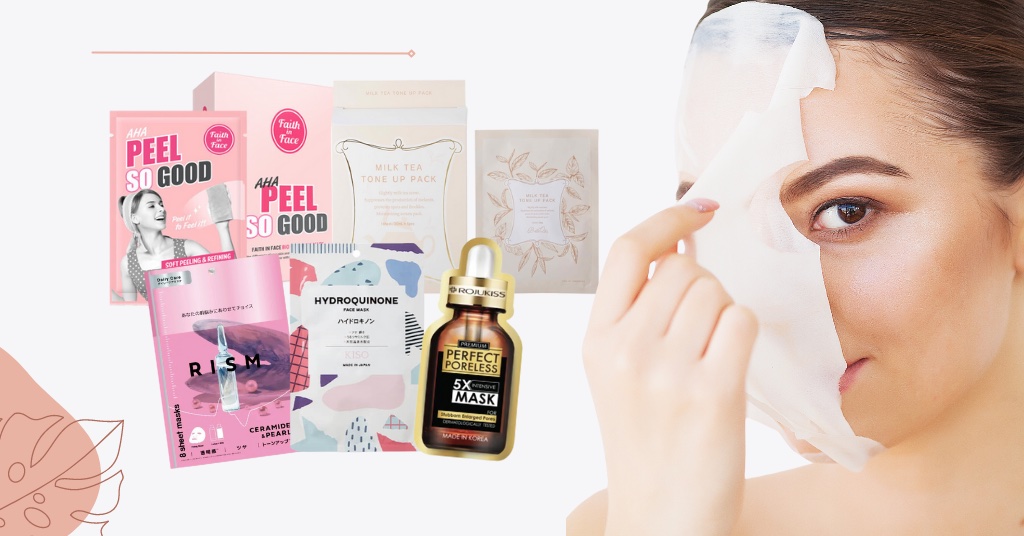 Having bright and radiant skin is believed to be the goal pursued by many girls! Especially with high UV rays in summer, whitening has become even more important! Our editor has compiled 7 popular and highly-rated whitening masks from Japan, Korea and more popular brands, starting from just RM3!
Although some products are available in Singapore, they are more expensive locally. Shop your favourite whitening masks from overseas for cheaper product prices and a wider selection of choices! You don't need to worry about international shipping fee – shop from overseas and ship to Singapore hassle-free with the help of Buyandship!
👇 Scroll down for our handy guide on brightening face masks and what it does, with 7 brightening masks that worth trying!
Table of Contents:
Brightening Masks Benefits
It's common to see the word "brightening" appearing on different skincare items – but what does it do to your skin? In simple words, a brightening face mask helps to even out your skin tone and texture!
💡 What Does Brightening Mask Do?
A brightening mask helps to accelerate skin cell turnover and reduce skin pigmentation by blocking the development of pigment, in order to fade out any scars. Also, it helps removing dead skin cells and lighten dark spots to achieve smoother skin, ideal if you have dull skin, acne scars, or sunspots.
💡 What Ingredients Should I Be Looking For in a Brightening Mask?
Not all brightening mask works! There're a few key ingredients to look for that are proven to help brighten your skin:
Niacinamide – has Vitamin B3 that helps lighten dark spots
Vitamin C – a brightening agent with antioxidant properties
Glycolic Acid – an exfoliant that helps remove dead and damaged skin surface ]
Hyaluronic Acid – helps reduce scarring and wrinkles
Top 7 Whitening Mask to Buy in 2023
BelleQs Milk Tea Tone Up Mask
A mask that has been rated A by Japan's beauty magazine LDK the Beauty, and ranked no.1 at Rakuten Japan!
Each mask is made of high-quality Japanese cotton, containing 3 whitening ingredients and 10 plant extracts to reduce pigmentation, with black tea scent!
Not Available in Singapore.
JP Price:S$36 / 10 Pieces (JPY3,600 )
THE RETINOTIME WHITE Premium Whitening Mask
The mask is rated A by LDK the Beauty magazine based on texture and hydration, with an A+ for its ingredients! It's being tested that skin's moisture level is increased to 28.1 after just 30 minutes!
The active ingredients of vitamin C and niacinamide will suppress melanin production and prevent age spots and freckles.
✨Fragrance-free and mineral oil-free, suitable for sensitive skin.
Not Available in Singapore.
JP Price: S$5 / 1 Piece(JPY550)
Coroku White Snow Facial Mask
Made in Hokkaido, each mask is infused with horse oil – a popular and highly-nourishing East Asian skincare ingredient that helps repair the skin cells and contribute to their speedy recovery!
It has hyaluronic acid, aloe vera extract, vitamicn C, and hydrolyzed collagen – highly recommended for dry, aging skin that needs to have a "glow up"!
✨Suitable for sensitive skin.
Singapore Price : S$7.3 / 1 Piece
JP Price : S$22 / 10 Pieces(JPY2,200)
(*On average S$2.2 per piece)
RISM Daily Care Mask for Brightening
RISM is a new skincare brand that focuses on "skin rhythm", which aims to keep the skin moisturized and healthy.
It contains Chrono Chardy, a special ingredient for anti-aging and moisturizing purpose! With ceramides that helps prevent moisture loss, so your skin is left plumped and supple!
✨ Contains ampoules with plant ingredients that balances water and oil to solve skin problems including acne and fine lines!
Not Available in Singapore.
JP Price:S$14 / 8 Pieces(JPY1,430)
KISO HYDROQUINONE Whitening Mask
Not just being a moisturizing mask, it contains hot spring water from Japan, glycerin, rosemary leaf oil and lavender oil that can help lighten spots and keep skin nourished!
✨ Free of addictives, paraben, silicone, mineral oil.
Not Available in Singapore.
JP Price:S$2 / 1 Piece(JPY220)
Faith in Face AHA Peel So Good Peeling Mask
The mask contains 3% AHA and BHA fruit complex for exfoliating dead skin cells, Aloe Vera extract for calming the skin, seaweed extract for purifying the skin.
✨ Suitable for sensitive skin!
Not Available in Singapore.
KR Price:S$14 / 10 Pieces(KRW14,000)
Rojukiss Perfect Poreless 5X Intensive Mask
Developed and endorsed by Korean dermatologist, this mask has 5x whitening serum, targeting dull skin and dark spots, while brightening overall skin tone.
Key ingredients including vitamin C, B3 and E which deeply nourishes and effectively minimizes the appearance of pores!
✨ Dermatologically tested, suitable for sensitive skin.
Singapore Price : S$5.29 / 1 Piece
TH Price:S$1 / 1 Piece(THB29)
💡 Note: Product prices, quantities etc. may change due to sales. All subject to change. We do not own any of the pictures above nor affiliated with the brands mentioned. All credits are due to all of the brands featured in the article unless otherwise specified.
Buyandship Parcel Forwarding Service : Simple to Use

Read our Parcel Forwarding Guide Now!
---