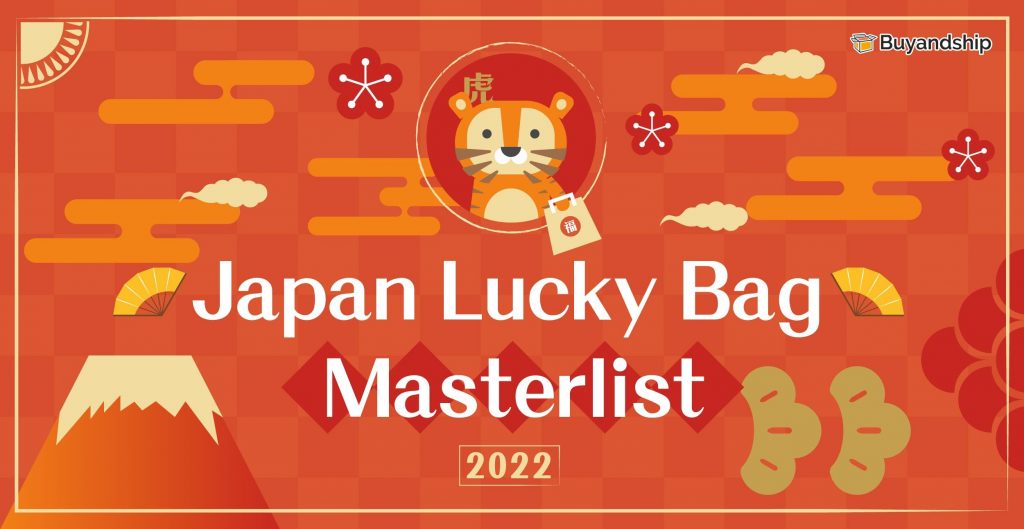 The new year is coming soon. After Black Friday, there is another exciting bargain coming up. It's time to snap up the Japanese New Year lucky bag again! You can get some products worth 3 times or more at a very low price. No wonder it's a big annual event in Japan! Although it's not possible to go to Japan now, you can still buy these lucky bags online directly from Japan. Experience the fun and excitement of opening lucky lags from the comfort of your home!
Some major Japanese brands have opened their lucky bags pre-order. We have listed some that we found and will continue to update the list. Keep coming back to check the latest update!
► Update date: 8th December 2021 | 12:30pm
Note

* All discounts and prices may fluctuate, and the final price is subject to the online shop display.

** The picture is for reference only. The style and colour of the products in the lucky bag are determined by the seller and shipped randomly.
---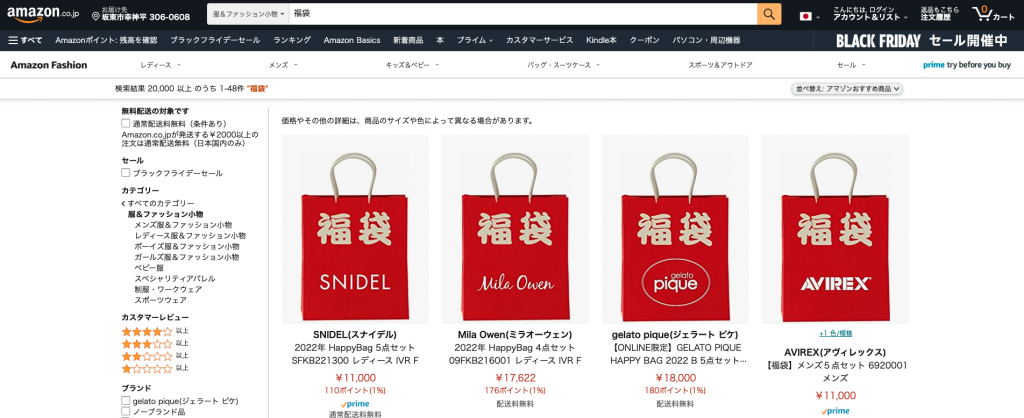 On the third place would be Amazon Japan! It's very popular among Buyandship members to pre-order lucky bags from different well-known brands, such as COMME CA ISM, Lily Brown, SNIDEL and Nano Universe. However, most lucky bags will not show any product photos. It is recommended to do a quick research before purchasing.
---

Rakuten is the second most popular Japanese website for Buyandship members. It sells a wide range of lucky bags, including clothes, shoes, skincare, electronics, food, daily necessities, and pet supplies. Some stores will disclose the contents of the lucky bags.
---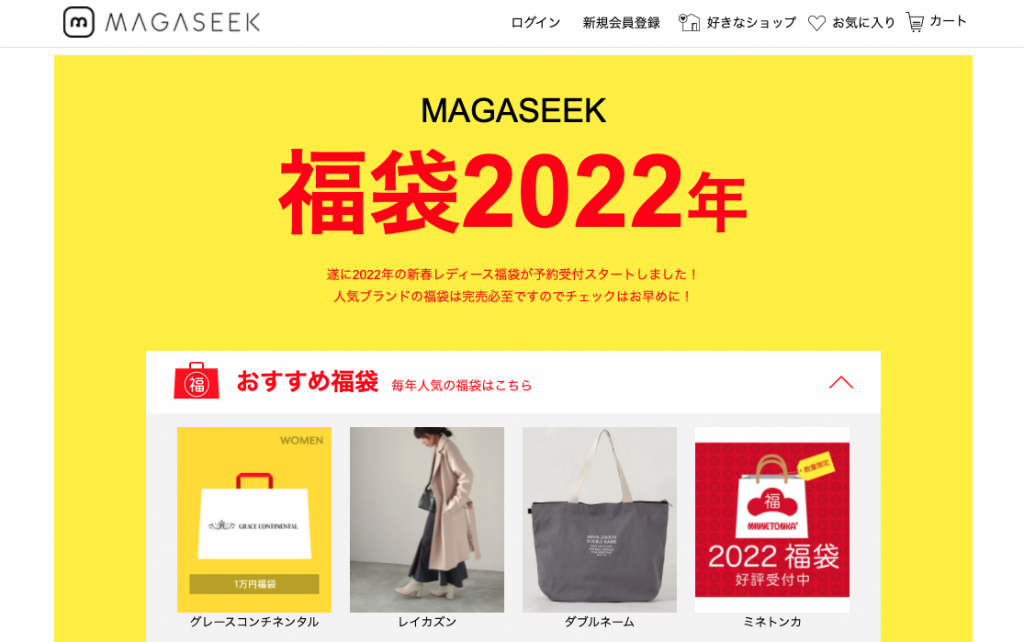 Magaseek is a well-known fashion and grocery shopping website in Japan. They sell a number of popular Japanese brand lucky bags, such as NANO UNIVERSE, SNIDEL, MOUSSY and WEGO, etc. These lucky bags are divided into some categories—men, women, children, and outlet. You can also find lucky bags with a price of less than ¥10,000 and lucky bags with publicized product content. It is very convenient for everyone to shop. No wonder it earns the first shopping site for pre-ordering lucky bags in Japan!
► X Large

Boy's lucky bag, including 2 coats, 2 tops and 1 pair of trousers.
The price is ¥11,000 (SG$132.22) with 4 items: 1 jacket, 2 sweaters, 1 long sleeve top, 1 pair of trousers.
Pre-orders are now open and will be shipped on 1st January 2022.
► Branshes

Branshes launches one girl's and one boy's lucky bags.
The lucky bag costs ¥5,500 (SG$66.11). There are 4 products: jackets, long-sleeved shirts, dresses and trousers, suitable for heights of 90-150cm.
Pre-orders are now open and will be shipped on 1st January 2022.
► Babydoll

Japan's popular children's clothing brand, sold over 350,000 lucky bags last year.
There are 4 lucky bags launched this year. Two of which are the Disney series, including 1 jacket, 2 tops, 2 jeans/skirts, and eco-bags. These items are printed with Mickey/Minnie motifs, and the bag costs ¥6,600 (SG$79.33).
The other bag also has 6 products, mainly with the brand printing patterns. The lucky bag costs ¥5,500 (SG$66.11).
Pre-order opens from 12/1 to 12/12 and will be shipped around 20th December.
Le Creuset has launched 11 lucky bags, with prices ranging from ¥11,000 to ¥55,000 (SG$132.22 to SG$661.10).
The lucky bag has a combination of ceramic tableware, pots, frying pans, kettles and other different kitchen utensils.
Due to its popularity, several lucky bags are sold out.
Require to connect to Japan VPN to shop.
Disney launched 2 lucky bags this year, with prices ranging from ¥3,000 to ¥10,000 (SG$36.06 to SG$120.20).
The lucky bag includes Disney products like plush dolls, cups, foldable bags, etc.
Pre-order is now open and is expected to ship on 28th December 2021.
A very popular lucky bag.
The lucky bag includes 5 items, including pillows, mini-doll ornaments, A4 folders, etc.
The release date is from 1st January to 31st January 2022.
Expected to ship on 6th January 2022.
► Mizuno

Men's golf dark blue 4-piece sports suit, size M only.
It costs ¥11,000 (SG$132.22).
Ship immediEately.
---
Happy shopping and good luck!