Black Friday is coming up soon. This most anticipated event will have tons of great deals that you definitely don't want to miss. If you haven't signed up as a Buyandship member, you certainly want to sign up now as we're also giving you a very special offer. For every new member, you will receive 6 credit points once you successfully sign up (this includes email and phone verification). Each point is equal to SG$1, which can be used as shipping fee. All you have to do is enter the code BF21 upon signing up, and you'll earn the extra credit!
---
HOW IT WORKS
Campaign Period:
8th November 2021 to 30th November 2021
Who Can Join:
New members who successfully signup (completed email + phone verification) on Buyandship Singapore's website during the campaign period.
Details:
Newly signed up members will receive 6 Credit Points* during the campaign period.
Must USE CODE: BF21.
Note:
To enter the code, you need to sign up first and wait for the verification email. Once received, you can enter the code (refer to the attached picture below), along with email and phone verification.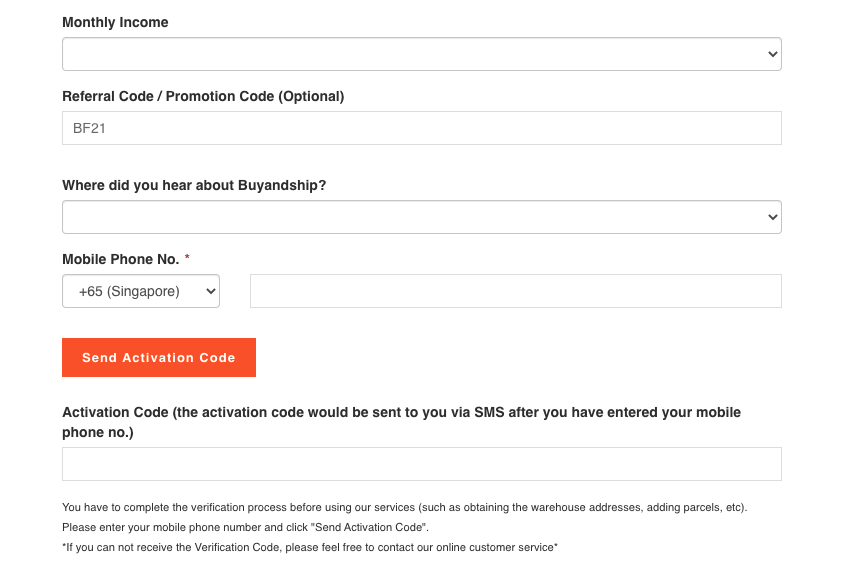 *1 credit is equivalent to SG$1 and can be used to pay shipping fee.
---
TERMS & CONDITIONS
1. This campaign is open to newly signed up Buyandship Singapore members only.
2. You must enter the correct promotion code when registering to get the points. Once you register, no points will be reissued.
3. The campaign starts on 8 November 2021 and ends on 30 November 11:59 PM.
4. The credits earned through this campaign will expire in 90 days.
5. The credits can be used to pay shipping fee (each point is equivalent to SG$1).
6. All credits cannot be transferred to other member accounts and cannot be exchanged for cash.
7. By participating in this campaign, the customer states that he/she understands and is willing to abide by the terms and conditions of the campaign.
8. Buyandship reserves the right to limit entry, amend rules or cancel, terminate, modify or suspend the campaign if considered necessary without prior notice.
9. In case of any dispute, Buyandship will reserve the final decision.