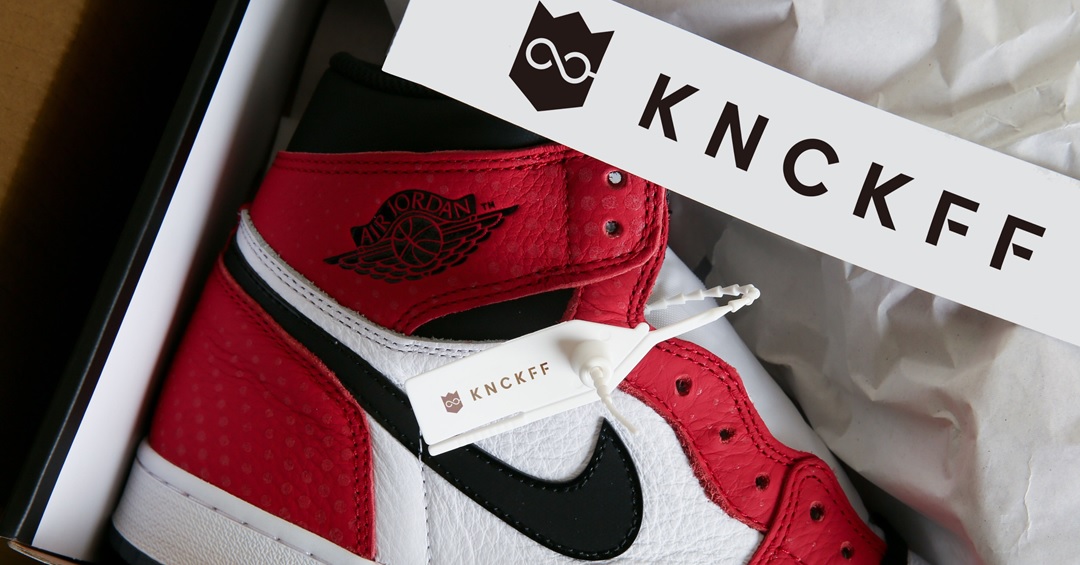 Do you consider yourself a streetwear master and always crazy about getting a pair of limited Air Jordan or Adidas Yeezy, but can't find a sneaker trading/ sales platform which is trustworthy with a fair price? Guys, we heard you! Let us introduce KNCKFF Taiwan, a popular sneaker sales platform that provides consumers with an opportunity to easily buy authentic hot-selling and limited-edition products at an affordable price.
---

Enjoy 2LB Free Shipping Every Month!
We at Buyandship work hard every day to bring our members exclusive promo and deals. Now, Buyandship and KNCKFF Taiwan teamed up to give sneakerheads in Singapore a free shipping program!
Starting from 19 October 2020, when you make an order on KNCKFF's website which is worth at least NTD6,000 and ship your order to Singapore via Buyandship, you will be eligible to get SGD12 credits as a rebate. The offer ends on 31 December 2020 and the good news is user can participate in the campaign once a month!
---
Terms and Conditions of the Free Shipping Program
1. This promotion is available only to registered Buyandship and KNCKFF members who ship items bought on KNCKFF from Taiwan via Buyandship's services, i.e. "Eligible Users". If you are an existing KNCKFF member, you need only to begin shipping to Buyandship's Taiwan warehouse address and use Buyandship's forwarding service to enjoy this benefit.
2. Each calendar month, Eligible Users will receive SGD12 shipping credits (equivalent to 2lb) on their first "Qualifying Shipment." A Qualifying Shipment must be purchased on KNCKFF, shipped to Buyandship's Taiwan warehouse with valid tracking numbers, and correspond to a "Qualifying Transaction." A Qualifying Transaction must be worth at least 6,000 New Taiwan Dollars as listed on KNCKFF's site, exclusive of any shipping, handling, or other fees.
3. Eligible Users must declare their Qualifying Shipments on Buyandship's system, and once Qualifying Shipments are verified by KNCKFF and Buyandship, appropriate shipping credits will be rebated to relevant Buyandship accounts and ready for use** within approximately 5 days after the Qualifying Shipment arrives at our Taiwan warehouse.
**Please refer to our Buyandship tutorial for more information.
4. This promotion is available from 19th October 2020 12:00 AM (GMT+8) until 31st December 2020 11:59 PM (GMT+8). Any orders placed on KNCKFF outside of this period shall not be eligible to receive the benefit.
5. All rebated shipping credits can be used to pay for shipping fees on Buyandship's system and will be valid for 90 days from the day they are available in the relevant Buyandship account.
6. Any item that falls within Buyandship's list of prohibited items on the restrictions page are not eligible for this promotion.
7. Buyandship reserves the right to amend or cancel this promotion at any time.
8. Buyandship will not be held responsible for defective or products that violate intellectual property laws, as Buyandship is not the seller. Buyandship is not responsible for the quantity or quality of the products inside the parcel, or for any parcels lost or damaged by defective or inadequate packaging. Buyandship will not be responsible for anything that happens to the parcel before it arrives at our warehouse, including, but not limited to, any loss incurred due to undeliverable parcels, delays, or damage by other delivery agents. Buyandship will only be responsible for any lost or damaged parcels that are proven to have occurred after our overseas warehouse has received the parcel or during our delivery operations. Please refer to our terms and conditions for more information.
---
About KNCKFF

KNCKFF was founded by a sneaker enthusiast, who led a team with a strong background in the sneaker industry. They want to establish a fair and trusted third-party trading platform to convey the value of sneaker culture. The core value of the brand could be easily be found by KNCKFF's logo, "certificate", "identification" and "a great buying and selling cycle". KNCKFF wants to be the eyes of both its buyers and sellers. Through their professional knowledge, they can identify authenticity, eliminate all insecurity brought on the market, and create the most secure and complete shopping experience in the sneaker industry.
Top 3 KNCKFF Selling Points

Some Products are Even Cheaper than Other Platforms e.g. StockX, GOAT;
Reliable Sneaker Authentication Process; and
Arrive to Singapore Much Faster!
---
🌟Benefits of Overseas Online Shopping 🌟
① Oversea online shopping allows you to buy anything from your favorite brands at a lower price or with good discounts
② Wider variety & range of products are available
③ Keep up with every foreign shopping season
---
🌟Why Buyandship🌟
Any Singaporean who likes to shop online will know the frustration of picking out purchases on an American website, only to find at the checkout that the store can't ship to Singapore. Parcel forwarding service is the answer to this problem! Buyandship has 11 warehouses worldwide, which allows you to shop around the world! We provide our users with affordable shipping rate in Singapore, and free parcel consolidation for you to shop in different countries. Learn More

---
---
Have you found the coolest sneakers and ready to add one to your shoe cabinet? Let us tell you how to get it faster, cheaper, and safer!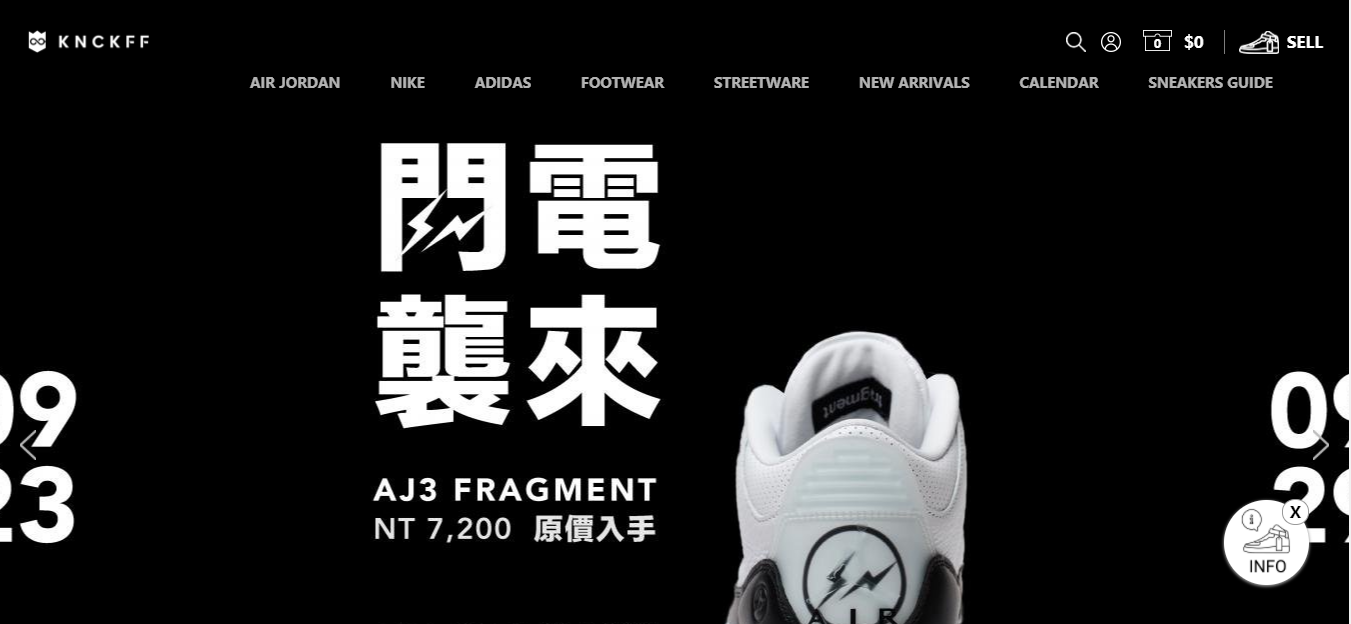 Looking for an alternative site to shop your favorite sneakers that aren't available in Singapore, or if it's available, but the price is way too expensive? Get yourself a pair of trendy sneakers for a much lower price than in SG and US at KNCKFF Taiwan! Since the whole site is written in Chinese characters, don't forget to use Google Translate to save your time.
---
Step 02: Sign Up or Login To Your KNCKFF Account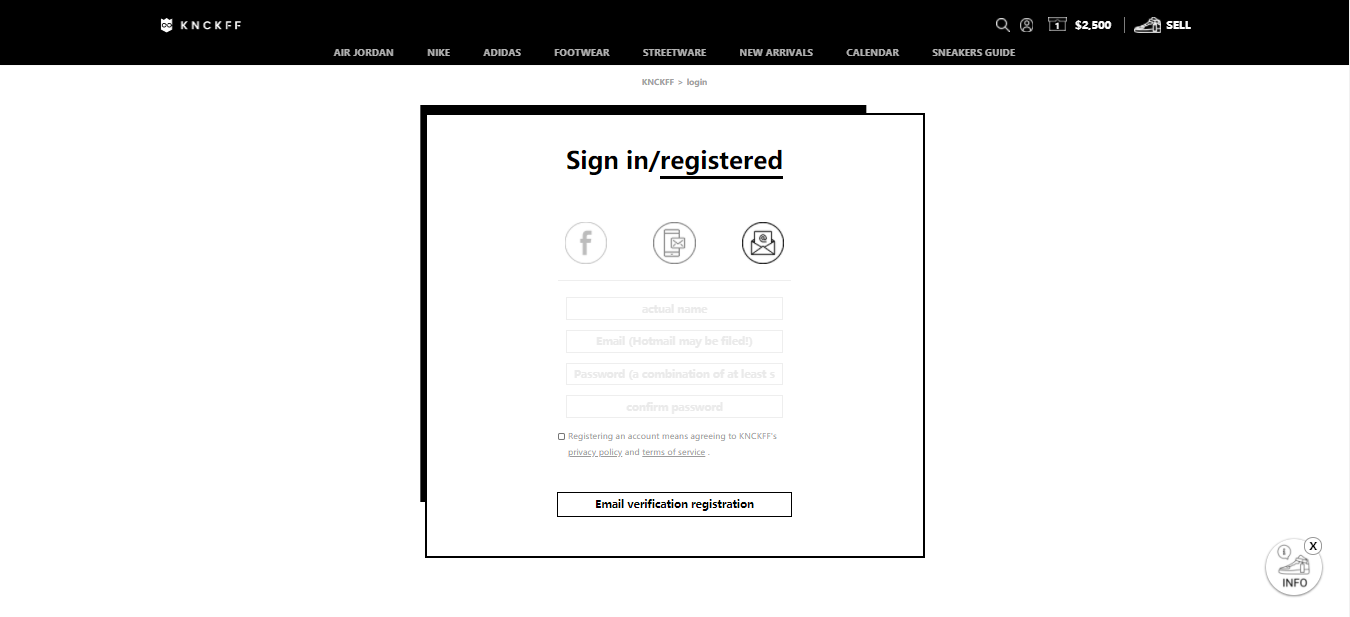 Create an account if you're new to the site or simply log-in to your account if you already have one. You have 3 options to sign up: Facebook, Email, and Mobile Number (*Please use your local +65 phone number, not the Buyandship TW mobile number). Simply pick what's the most convenient for you.
---
Step 03: Upon Account Verification, Insert Buyandship's Taiwan Warehouse Address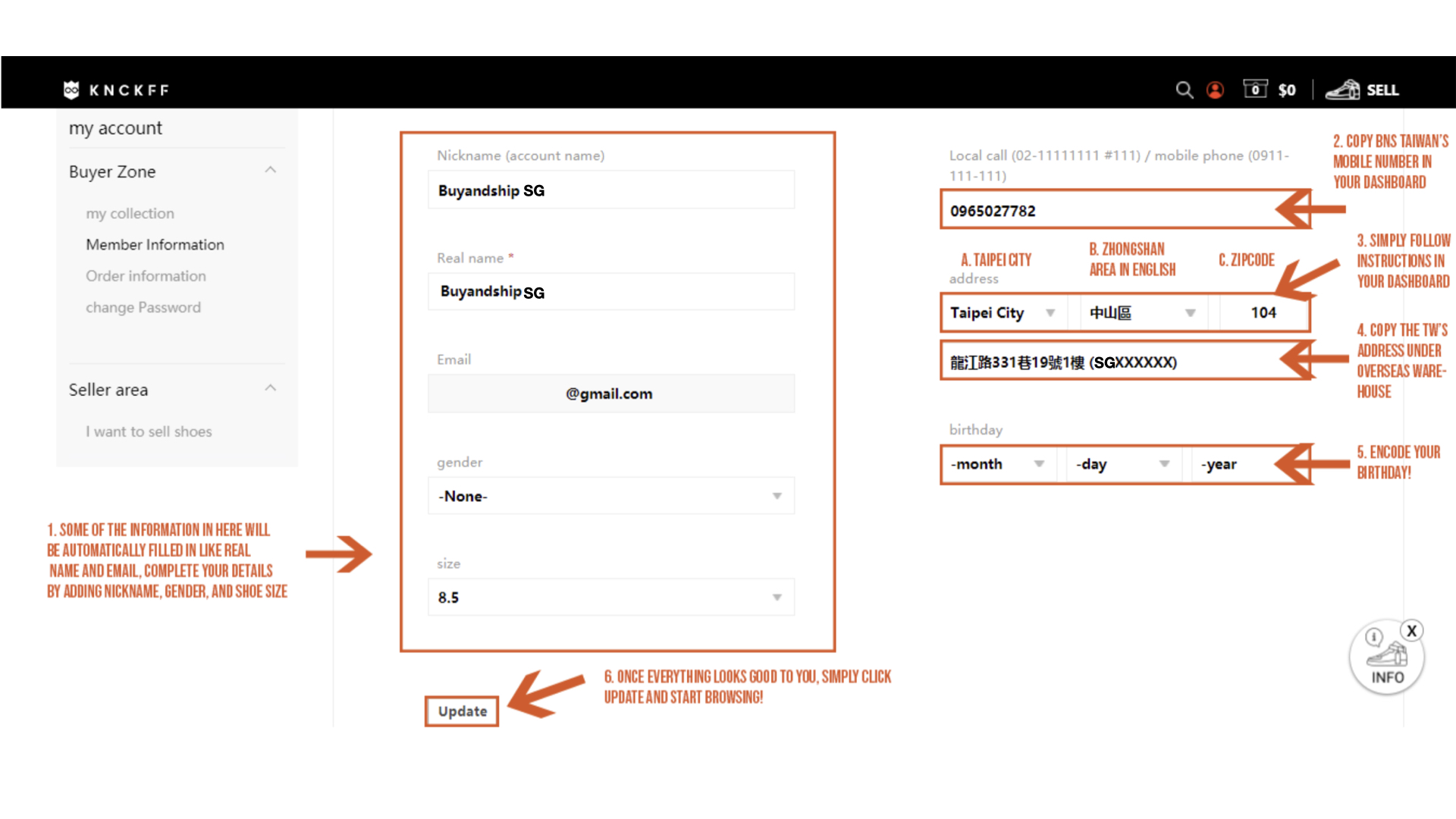 Upon Email Account verified, you will be redirected to your profile where you have the option to save your Shipping Address now. By doing this, the checkout process will be smoother and faster, so we recommend you to do so.
Note: If you use other forms of registration and didn't redirect to your profile settings, please simply click your profile and you will be redirected this page.
Alright! Let's get started, first of all, login to your Buyanship Account. Click on the 'Taiwan' Tab under the 'Overseas Warehouse Address' section.

First, insert all of the data that you can encode i.e Nickname, Gender, Shoe Size, and Birthday.
Next, Copy Taiwan's Mobile Number from your dashboard and put it on the necessary slot. Please note that this number is not for SMS Verify Use.
Choose 臺北市 >>> 中山區 >>> 104  on the bullet-list address. It means Taipei City >>> Zhongshan Area >>> 104 in English. Again, you can use google translate for easy navigation or search for the Chinese characters similar to our Taiwan's address.
Next, Copy and Paste the Chinese Address from your dashboard into the form. It is important that you include your MEMBER ID (SGXXXXXX) after the line. Check the Screenshot above for reference.
Lastly, click Update and start browsing KNCKFF!
---
Step 04: Browse Your Favorite Sneakers Products and Hit "Add to Cart"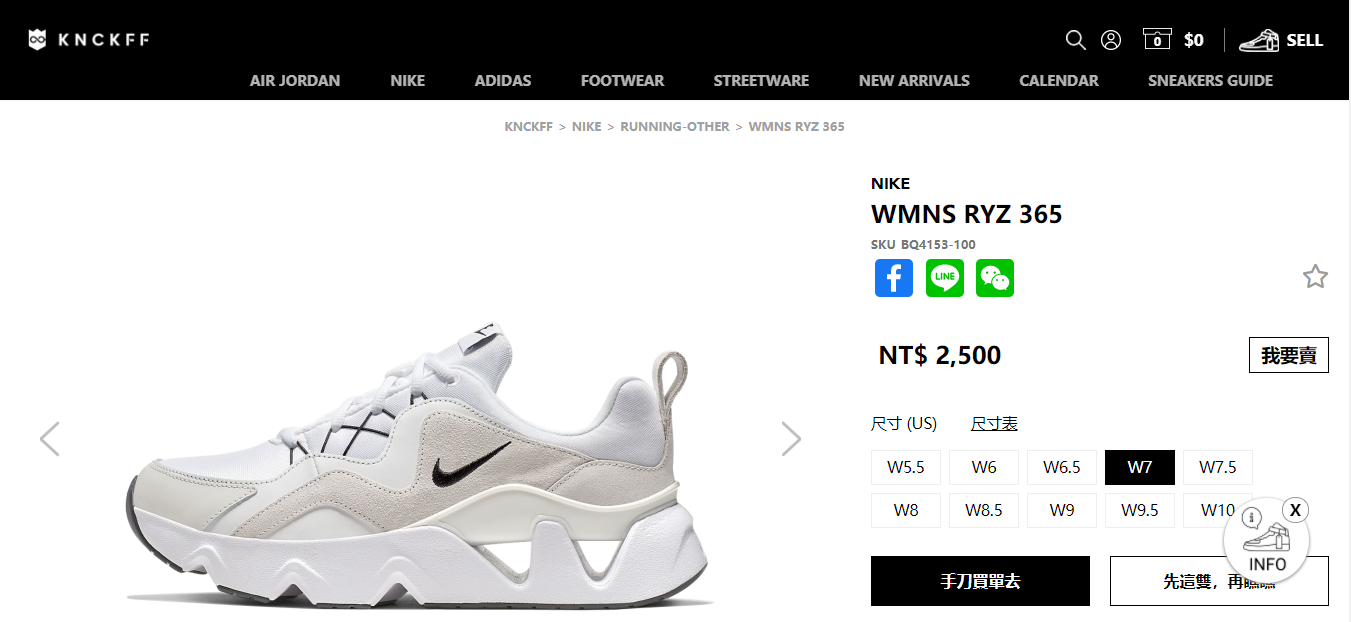 With their listings, find your favorite sneakers and simply hit "Add to Cart" once you're satisfied with your finds.
Note: The black button means 'Buy Now' while the white button means 'Add to Cart, Continue Browsing'
---
Step 05: Review Your Cart, Insert Necessary Details, and Proceed to "Checkout"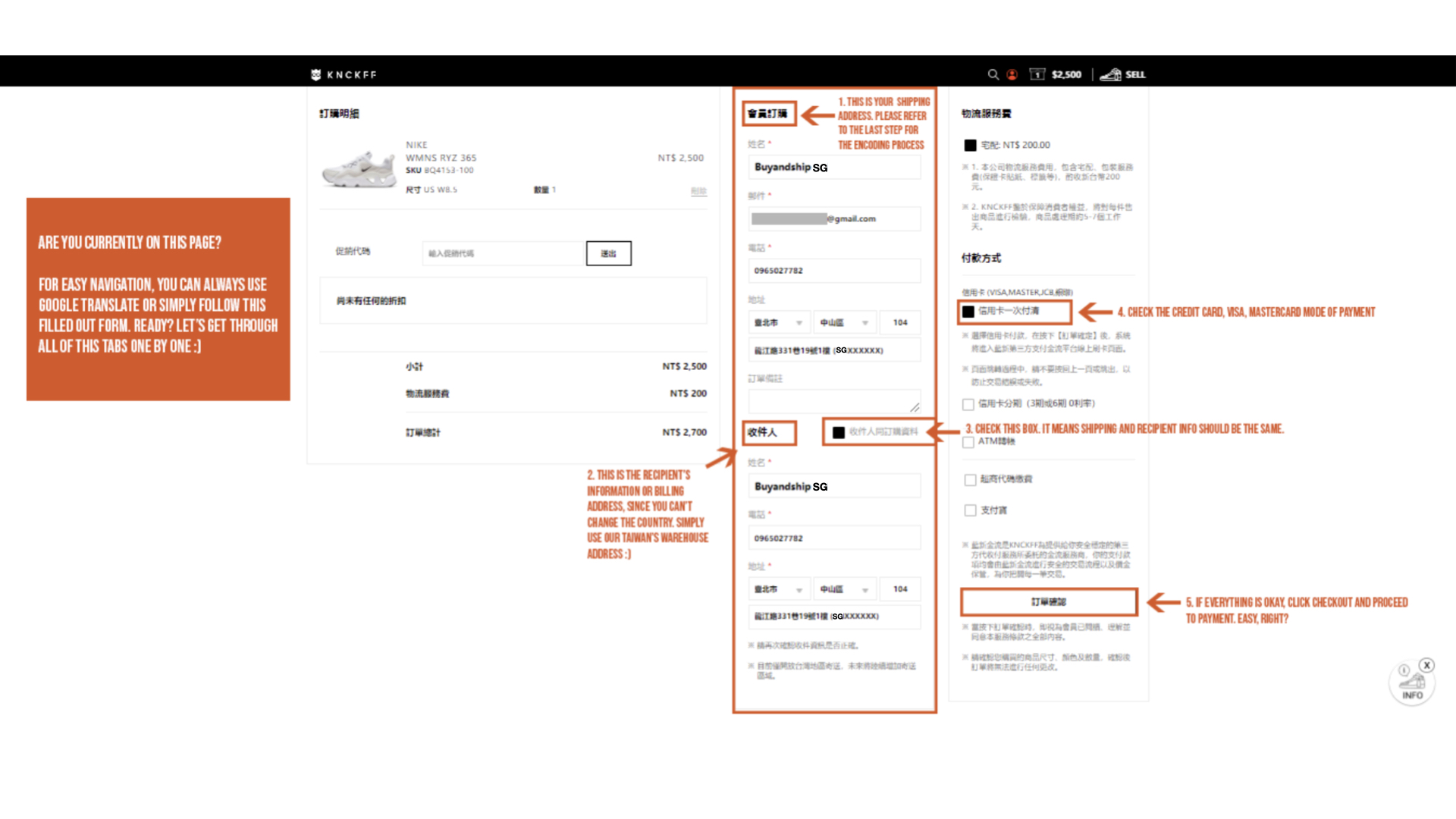 Once you're satisfied with your finds, review your cart one last time and review if all of the details you encoded is correct. Since the country in Recipient's information can't be changed simply click on the box that says "Shipping Information and Recipient's Information is the same." You can use our Address as your Billing Address, in this case. Simply check the screenshot above for your reference.
Review your cart and details one last time, then click "Checkout" 
---
Step 06: Pay Your Order in this Gateway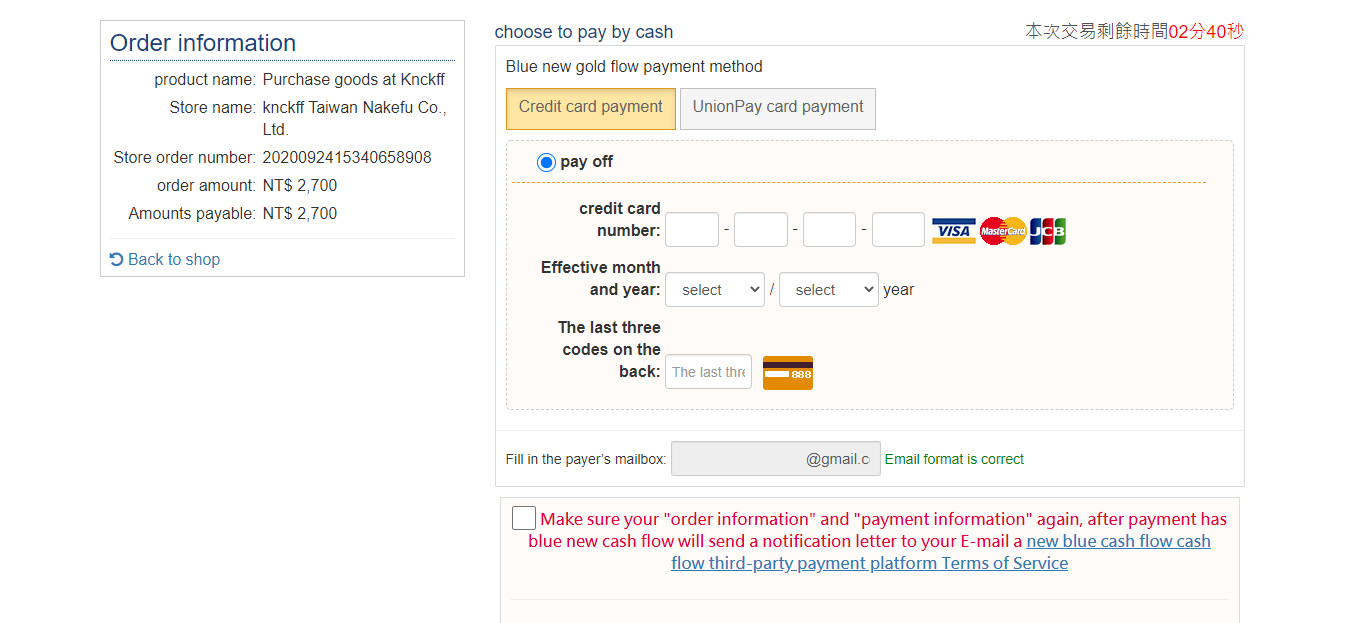 Once you hit "Checkout," you will be redirected to their payment gateway where you will have an ample time to pay for your orders. After the payment is completed, the order will be established, otherwise, the system will automatically cancel the order.
---
Step 07: Wait For KNCKFF's Tracking Number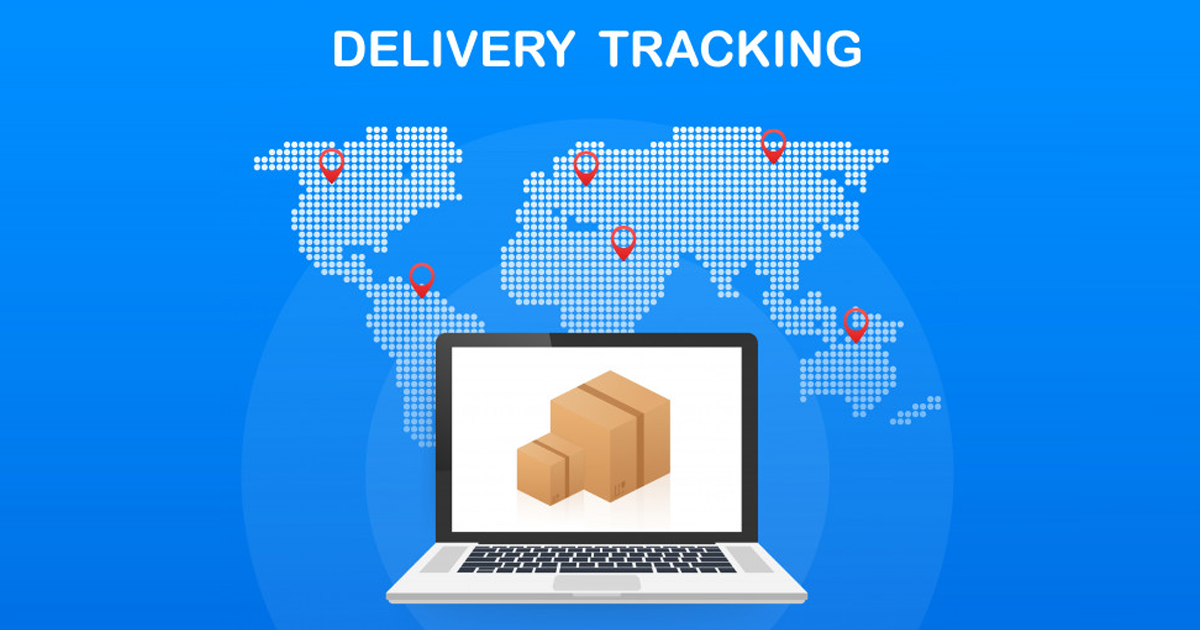 Once everything is settled, KNCKFF will send you an email confirming your order. Wait for your tracking code, because it will be crucial for the next step.
---
Step 08: Declare Your Shipment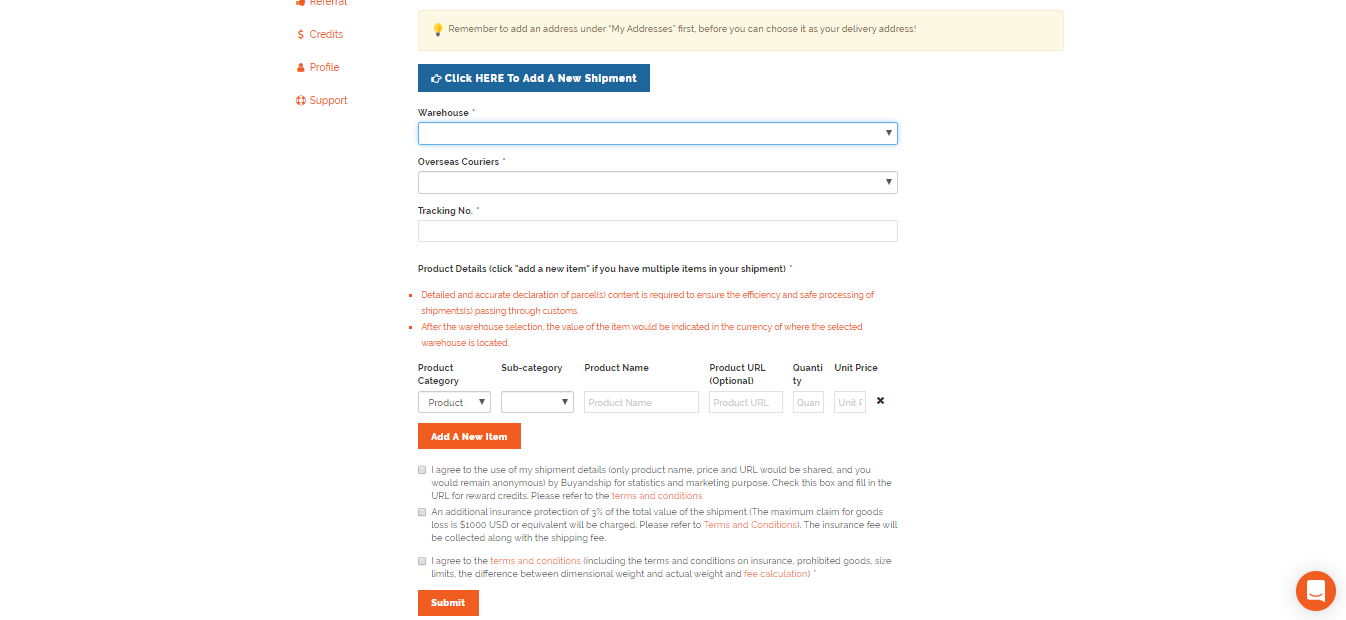 Once you get your tracking code from KNCKFF, login to your Buyandship Account, and declare your shipment. All you have to do is:
Go to 'Parcel Management'
Hit the 'Click Here to Add a New Shipment' button
Enter the Warehouse where you wish to ship to, in this case, select 'Taipei, Taiwan'
If the Drop indicates which courier they use, select the respective courier. But if you don't know, choose 'Other Couriers,' instead
Enter your Tracking Number
Fill out the Product Details (Click 'Add New Item' if you bought multiple items)
Check all of the Terms and Conditions
Hit 'Submit'
---
Step 09: Wait For Your Parcel To Be in Parcel Management "Arrived At HK Warehouse"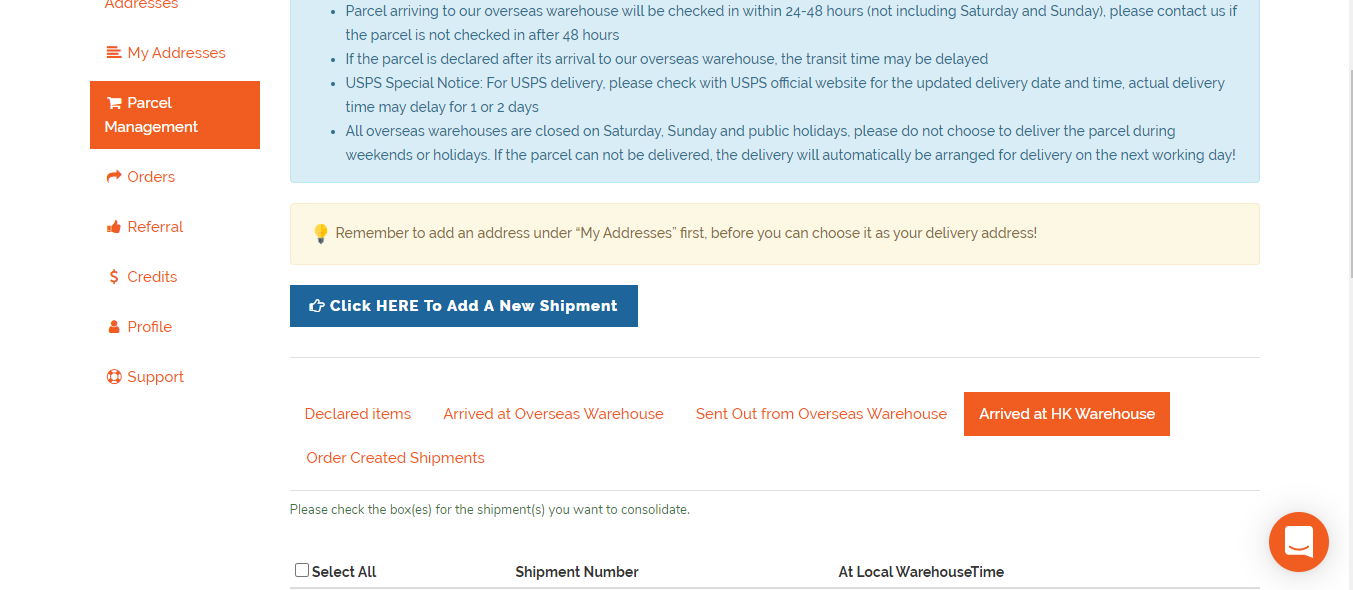 Once the shipment in Parcel Management turns to "Arrived at HK warehouse", you can checkout your shipments separately or consolidate your shipments (not separate items) by ticking on the box next to your tracking number. Once each shipment arrives HK warehouse you have free consolidation services and 30 days of storage. If you want to checkout, fill out the checkout details, and proceed to payment.
---
Step 10: Pay for Buyandship's Shipping Rate

We charge purely based on weight for S$6 per pound so, you don't have to compute for complicated math equations!
This goes without saying that if your parcel weighs exactly or less than 1 pound, we only charge you S$6 but if the weight exceeds 1 pound, we round it up. But don't worry because you always have the choice to consolidate your items to maximize your money – that's a whole another conversation so it's best if you just read more about consolidation HERE.
Once you get notified that your parcel is in our HK Warehouse, all you need to do is pay the service fee before we process it. Buyandship only accepts Internationally accepted Mastercard or Visa or Virtual Cards for a safer and faster way to pay.
AND ALL DONE! All you have to do right now is to grab a cup of coffee, relax, and get that excitement for the coolest sneakers to arrive on your doorstep!
---