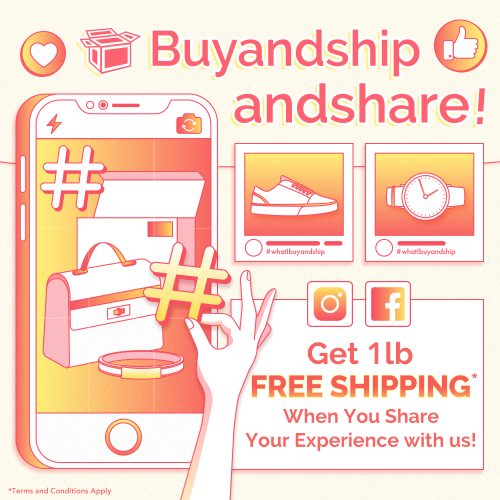 Let's share your shipping experience with us and earn S$6 free shipping credits (equivalent to 1lb*) for your next shipment. The credits you earned through this campaign have NO expiration date. Campaign starts on July 1st and ends on July 31st, 2020.
*The shipping rate of our parcel forwarding service will be adjusted to S$6 per pound (lb) starting from 20 July 2020 (Monday) 12:00pm.
How to Participate on Facebook
STEP➊ – Like and follow Buyandship Singapore Facebook page
STEP➋ – Share photo(s) of the item(s) you bought from overseas online stores & describe your recent shipping experience with us (approx. 30-50 words). Remember to include hashtag #WhatIBuyandship and tag @Buyandship Singapore on your Facebook post and set the post as "Public".
STEP➌ – Send us a screenshot of your post via Facebook Inbox, provide your user ID, and the shipment order no. of the item(s) you shared for our verification.
STEP➍ – Once we've left a comment on your post, and verified your post, S$6 free shipping credits will be added to your Buyandship account.