Black Friday is coming! It is believed that most of you are ready for the big sales, and it is to be expected that numerous parcels will be shipped to many homes home. In order to give you a pleasant experience on online shopping, please pay attention to the arrangements below.
Shipping arrangement
For our US warehouse, the processing time for shipments will be increased.
After being received, shipments will be checked in within 2 to 3 working days due to the great increase of packages.
After the check-in, packages will be sent out within 2 to 3 working days.
For those packages that reached without declaration, the notification email of declaration will be sent within 2 to 3 working days. There will be a delay on the "checking-in" and "checking-out" of packages which reach without declaration. They will be sent out within 3 to 4 working days after the declaration is completed.
Delivery arrangement
After the payment has been settled, shipments with one individual parcel will be sent out within 2 to 4 working days while another 2 to 3 extra working days will be needed for shipments consolidated with two or more parcels.
Should there be any prohibited items, oversize or overweight parcels are found in the shipment, it will take 7 to 14 extra working days for processing the shipment.
If there are any false statement in parcel declaration, the delivery of shipment will be delayed for 7 to 14 working days
Please declare your parcels as soon as possible and do not purchase any prohibited items.
Warehouse Storage Arrangement
Due to the influx of shipments arriving at our central warehouse in Hong Kong, Buyandship is temporarily revising its free storage duration from 30 days to 14 WORKING DAYS. The aforementioned is effective immediately and will be in effect until the end of December 2019.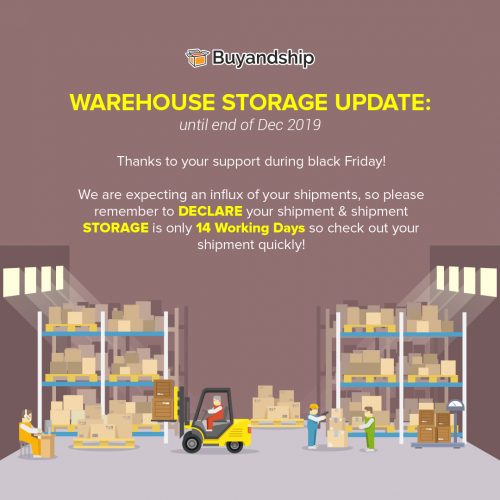 We apologise for any inconvenience caused. If you have any further queries, please drop our customer service representative a message. Thank you for your cooperation and patience.