Thanksgiving, Black Friday and Cyber ​​Monday are coming soon, and it's all hands on deck for the Buyandship team this year! As we are expecting a lot of shipments during the sale season, we need the cooperation of you – our members – to ensure the shipment process from start to end.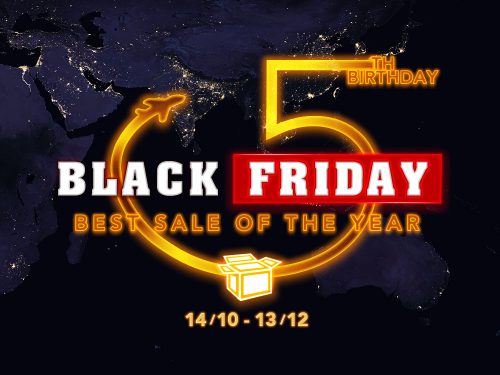 Before the parcel arrives at the overseas warehouse
Buyandship's US, UK and Japan warehouses will work hard and do the best of their abilities arrange the check-in of every parcel as quick and efficient as possible. However, because of the large increase in the volume of goods, it might take up to 3 days for us to check-in your parcel and forward to our HK warehouse.
Note: Please remember to declare your shipment on time and accurately for a smooth transfer process. Without a correct declaration, the shipment may be delayed and not transferred to our HK warehouse immediately.
After your shipment has been sent out, it will take around 6-10 days until it arrives at our HK warehouse and several more days to move onwards to your destination in Singapore after your payment. We appreciate your understanding and patience with us for this.
During the big sale period, remember that you can ship height/width/depth measurements of up to 150cm, but be careful to not exceed these limits, otherwise, the shipment cannot be shipped to our Hong Kong warehouse!
After the shipment arrives in Hong Kong
Since we are expecting a large number of shipments to arrive at our warehouses, the time required to process consolidations will be slightly longer than usual. Please bear with us and order your purchases sooner rather than later!
Also, it is best to think about whether to ship your shipments as an individual package to consolidate shipments, in addition to the possible tax implications should your consolidated shipment cost more than S$400.
If you want to receive your orders as soon as possible and avoid getting taxed, we highly recommend you to choose the Single Shipment method. This way, you don't have to wait until all parcel to arrive at the warehouse, and you will receive your individual parcels sooner. However, due to the increase of orders and parcels during that time, it can take between 8 – 15 days working days for your shipment to arrive at your address in Singapore.
Regarding our customer service
Buyandship is offering a customer-oriented service and usually, we are able to answer your inquiries within 30 minutes, but due to all the messages and inquiries we will be getting during this peak sale period, please expect an average of 2-3 hours for an answer to your questions.
To ease the congestion, please read through the following troubleshooting list for your convenience:
Troubleshooting #1: Shipment size restrictions
During the shopping season, please bear in mind the size of your parcel/shipment.  Either side cannot exceed 100cm and the sum of all three(3) sides cannot exceed 150cm. The shipment will otherwise be rejected and cannot be transferred to Hong Kong and subsequently to Singapore.
Troubleshooting #2: ZIP Code Issues (US only)
Please note that the latest ZIP Code of US warehouse is 97251-9614 and the latest ZIP code has already come into effect. You are strongly encouraged to update your US shipping information as soon as possible.
However, sometimes when you enter 97251-9614 as the ZIP Code of your US shipping information, the system will show that this ZIP code is invalid. In case of an issue, you may try using 97251.
Troubleshooting #3: Payment Method and Billing Address Questions
Prepared online-shoppers must have valid credit/debit cards and a PayPal account, as most of the online stores accept either or! If you want to use the warehouse address as your Billing Address, please use your real name. In case the warehouse address fails as a Billing Address, then you can use your own real address as the Billing Address.