At the blink of an eye, we're fast approaching the pinnacle of epic sale events for the year. It feels like it hasn't been that long ago that we were waiting with bated breath on what's in store – or in our case, online – for Thanksgiving, Black Friday and Cyber Monday last year!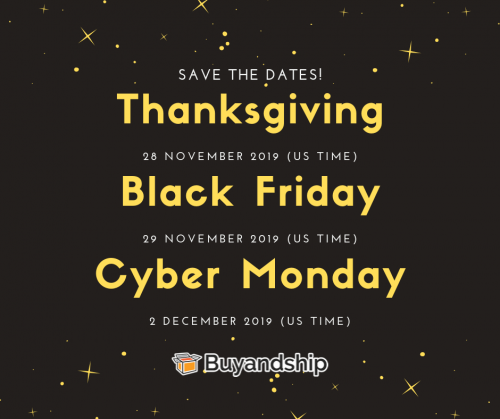 This year's sale events are set to be even more epic! With sales and discount peaking close to 80% off, it's no wonder that it's one of the more coveted sale periods. It's not just stores and brands from the US; online stores from the UK and  Japan are also joining in on the festivities! The more, the merrier, we say.
Take advantage of the myriad of discounts and sales from overseas online stores during this period. Most of the time, these stores only offer domestic shipping or charge high international shipping fees to Asia.
Send your purchases to the closest Buyandship overseas warehouse to your retailer — count on Buyandship to ship your Black Friday and Cyber Monday haul to your doorstep!
5 Ways to Maximise Your Shopping During Thanksgiving / Black Friday / Cyber Monday
Save the Dates
The US celebrates Thanksgiving on the fourth Thursday of November, and this year it falls on the 28 November. By this date, most online stores will have decorations, footwear, baby products and toys, personal care and sports/outdoor equipment at a discount – as a precursor to Black Friday.

via GIPHY
The real hustle is slated to begin on the day after of Thanksgiving. This year's Black Friday is happening on the 29 November, which also coincides with PayDay! 😉 Most, if not all, major online stores will launch its "One Day Deals" or "24-Hour Only Flash Sale" events on this day. Don't miss out on your favourite stores and brands and shop during these limited-time offers to bag the bargains.
The sale doesn't end just there. Cyber Monday will follow on 2 December 2019, where electronic and home appliances are on discount or offer! Of course, Cyber Monday isn't just all tech and gadgets – online stores carrying fashion and home goods tend to continue its sale offers till this day.
If you regret not buying enough on Black Friday, Cyber Monday gives you another chance. But keep in mind, some stores only offer either Black Friday OR Cyber Monday sales!
Pay Attention to the Sale Time
Seeing as the US is quite sizeable, the West Coast and East Coast states are in different timezones. Most online stores will start their sale following the West Coast, which utilises Pacific Time (PDT).

via GIPHY
As an example, 2019's Black Friday sales will generally start at 0:00 am on 29 November (PDT), which translates to 3:00 pm on 30 November, Singapore time. Nonetheless, it's also good to note East Coast (EDT) timing as well!  To avoid confusion, use Timezone Converters like Timebie to help you with the conversions! (That said, sales can even start early! Always check back your favourite stores.)
Prepare Your Shopping List and Create Your Accounts Beforehand
If you want to be well-prepared, you should open a customer account at the online shop and create a wishlist! When the time comes, everything will be a click away from checkout.
And if you want to be even quicker, pre-fill the relevant Buyandship warehouse address as your shipping address. When you checkout, you can be a step faster than everyone else. The quicker you've made your purchase, the sooner your shipment will be at our warehouse and then ready to be delivered to you!
Get access to our oversea warehouse addresses here
Identify Payment Methods and Prepare Multiple Payment Options
Some overseas online stores accept foreign credit/debit cards, while some only accept PayPal as a payment method. To avoid payment issues, prepare multiple payment options before the Black Friday period.
If you're using your credit/debit cards to shop, make sure to call your issuing bank ahead of time to inform them of international shopping charges. Don't have a PayPal account? Sign up for one now to avoid wasting precious minutes of your shopping time!
Be a Smart Shopper
Keep your eyes open to different prices on different websites! If you are eyeing a  pair of sneakers, don't forget to check out all the online shoe shops and not only the official website.

To help you search quickly for the best deals, install the
Buyandship Price Comparison Tool
on Google Chrome! Speaking of extensions, don't forget to add cashback extensions to maximise on your savings! You can get up to 10% cashback from certain websites.