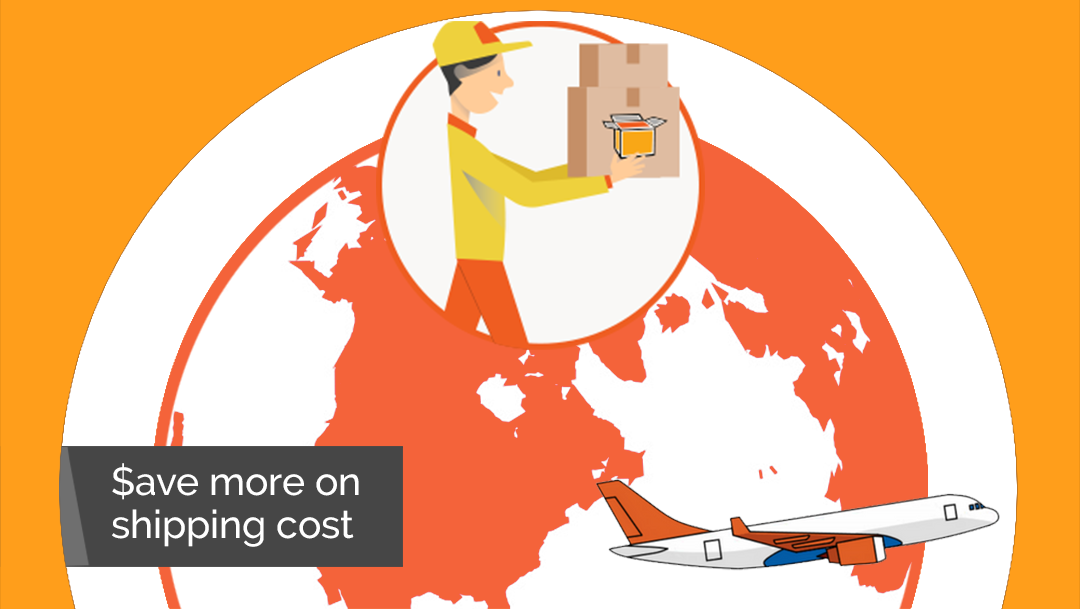 Online shopping: The concept has been around for a very long time. Its current popularity is made possible with technology and secure payment methods. These days, online shopping is reliable, fast and extremely tempting with all kinds of sales that go on.
There is, however, that one gripe that many have experienced when shopping online on overseas websites. The shipping cost can sometimes be more expensive than what's in your shopping cart! And that is a big headache for online shoppers. What if we told you that you could start saving more on your international shipping fee? Buying online from the US, UK, Australia, as well as even Korea and Japan, can be more cost-effective now, especially with the lower shipping cost. So let us tell you the best way to shop from international online stores that will not break make your bank account weep.
International Warehouses
We have warehouses in 9 prominent countries, including the US, UK, Australia, Italy, Korea, Japan, China, Hong Kong and Thailand. If you're shopping from an online store in Japan, direct shipping to Singapore can be expensive. But if you first send the item to a local address (our Japan warehouse), then the shipping is most likely free. We will then send your parcel to our main warehouse in Hong Kong before we deliver to you back here in Singapore. The delivery charges will be calculated there based on the weight per pound. That is our advantage and how we can keep the shipping cost at a minimum.
Actual Weight Based Payment
At Buyandship, we use the actual weight of the item so you can be sure that we don't weigh just "air". For example, if you're shopping in Korea. You will send your purchase to our warehouse in Korea first, which is most of the time for free. Once it arrives in our Korea warehouse, your parcel will be sent to our central warehouse in Hong Kong for sorting. Only in Hong Kong will we then weigh your parcel — the actual weight will determine your shipping cost. From there, you can also consolidate your other items from different stores in one shipment to your doorstep (if any). The fee is only S$5 per pound. If the actual weight is 1lbs or less, then the cost is S$5. Simple as that.

Easy To Use
Shopping online is relatively easy, and we have also made it as easy to ship your parcel(s) using our services. All you have to do is register as a member of Buyandship and start shopping. But first, be sure to check out the Overseas Warehouse Addresses to obtain related warehouse address from the countries you're shopping in. If you're buying from Korea, for example, make sure you copy the Korean warehouse address as your delivery address. Also, don't forget to make sure your membership ID is included in the address during checkout. You can fill in your credit card billing address or use our overseas warehouse address as the billing address.
Once your parcel arrives at their respective local destinations, it will be automatically forwarded to our Hong Kong warehouse. You will be notified via email as soon as it arrives. Here is where all your packages can be consolidated into one single parcel, and it is done with no extra cost. As we said before, the delivery fee will be calculated based on the actual weight. Once you're ready to bring them home, make the payment on Buyandship via credit card or credit points. Your parcel will soon be on its way to your doorstep. Standard delivery should take between 6-9 days upon confirmation.
Note: Also check out the full tutorial on how to use Buyandship services.
Frequent Discount Updates
There will always be discounts available at many online stores worldwide at any given time, but can you keep up with most of them? You may miss one or two offers along the way and perhaps unaware of an ongoing sale happening at another online store — this is where Buyandship comes in. We will keep you updated with all the known current offers, discounts and deals, all the time. Our social media accounts, such as Facebook and Instagram, are always active and bustling with the latest updates on the ongoing offers. You will get daily updates so that you won't miss anything from many of the international online stores.
Have you been looking for a good pair of shoes for yourself? We have many info for shoes on sale in our social media accounts. Others like dresses, gadgets, sunglasses, hats, branded items, watches, pants, books, bags…we have those in our list too. Head over to our Facebook Page and Instagram account (and hit that Like/Follow button) to keep yourself updated with tons of current and future offers. Trust us; you won't regret it.
Final Note
We've made it clear that it will be an added advantage for you to start shopping online using Buyanship as your primary shipping provider. Since international shipping can be a nuisance and expensive, it is our job to make things simpler for our customers while keeping the shipping cost at a minimum. For those who have yet to sign up, what are you waiting for? Hit the sign up banner below to start your (cheaper) online shopping.