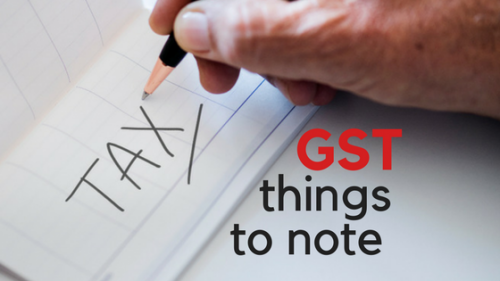 These are three letters that everyone keeps talking about of late. The announcement that the Goods and Services Tax will be raised from 7% to 9% (to be effected between 2021 and 2025) truly shook the ground, even if there were murmurings that this came at no surprise. 
Some might complain that even though it seems to be a small increase in the eyes of percentages, some retailers and merchants might use this as an excuse to increase prices way beyond the 2% increase. 
On the other hand, some might even wonder if this will even affect them in the long run. So we thought to put together a few things you need to know about how GST affects your online shopping. 
WHEN DO YOU HAVE TO PAY GST?
For most people who order smaller ticket items you might get away with never having to pay GST for the items you ship into Singapore. However, if you purchase anything upwards the equivalent of SGD400, you will get charged GST. Make sure you're prepared to pay for it because you will be expected to hand the amount in cash over to the delivery person once they show up at your door. 
 
HOW CAN YOU KNOW OF THE AMOUNT TO PAY?
If your items fall under non-dutiable and non-controlled goods, the amount you will have to pay is currently 7% of the product's value stated on the commercial invoice, or the declared price of your items if you're shipping with BuyandShip. Of course this amount is subject to change to 9% in the future. Do make sure to give the accurate value of your products so you don't run into any problems with customs. 
ANY SPECIAL ITEMS TO TAKE NOTE OF?
The only items that would come with a price variable in terms of GST would be liquor and tobacco items. These come with an additional duty, which would have to be calculated with Singapore Customs. Do check with a BuyandShip Customer Service personnel if there are any shipping restrictions before purchasing these items. 
TIP OF THE DAY
We know all this talk about GST can quickly become a somber affair, but we're adamant about helping you guys out and wanted to share a tip we thought about. 
Sometimes it seems like you'd be saving money by jio-ing your friends to buy the same item as you and shipping it together, e.g. bags, speakers, camera equipment, etc. But sometimes doing that might push the combined value past S$400, and what you thought you'd be saving on shipping can quickly become even more expensive once you count in the GST payable. 
Luckily, now you don't have to hesitate because of the shipping costs. We have just started our $3/LB promo to thank our followers for helping us hit 10k on Facebook! 
A HUGE kamsiah to all of you!