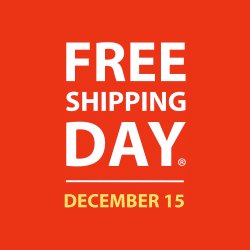 The words "free shipping" really gets our attention when it comes to online shopping.
But to have a day DEDICATED to FREE SHIPPING? That really makes us tingle!
We were thrilled when we found Free Shipping Day happens once every December in a bid to help spread the Christmas joy.
This year, it falls on 15 December.
Started in 2008, Free Shipping Day is an event to make sure people get their shopping done and by that date to ensure they get their Christmas shopping by Christmas Eve.
Since then, there have been many, many stores and brands joining the festive event, so you'd be able to get something for everyone! Clothes, shoes, toys,makeup, you name it!
Yes, we know what you're thinking: Free shipping only happens within the US. But if you use BuyandShip's actual weight charges, we can ensure you still get your items at a fraction of the shipping price you'd originally be charged for. This is compared with when you ship direct from an overseas store.
And because we want to join in the festivities, we are offering the first 20 signups an extra $5 of credits on top of our usual $5 free. That's $10 worth of shipping!!
Stay tuned as we post our reviews on some of our favourite shops to buy from!